It was a sight that will make the heart of every lover of Afrobeats swell with pride. It was a spectacle that could inspire hope in the hearts of upcoming and emerging artists patiently waiting for their time in the spotlight. It was a sensational moment capable of bringing joyful tears to the eyes of those who discovered Lojay and those who played a role in the remarkable success of the "LV N ATTN" EP. The moment Lojay graced one of the biggest stages in the world of art and entertainment. The moment Lojay made the proud and surreal walk from the backstage of the O2 Arena in London and performed in front of 20,000 people singing along to his music.
Barely six months ago, most of the people who have countlessly streamed Lojay's "LV N ATTN" EP didn't even know who he was. For the consumers, his entrance into the spotlight was unexpected and unannounced. Lojay appeared like rain which came pouring down without any indication of its impending arrival. And as the rain of "LV N ATTN" came pouring down in thick heavy sheets, those caught in the rain savored its soothing effect, and those hiding under the covers of their roofs were lured out by the elation that radiated the atmosphere.
Produced by the legendary and phenomenal Sarz, "LV N ATTN" is a seamless hybrid of Afrobeats and trans-border sounds that make for a mind-blowing project. With a voice that seats comfortably behind the beat, straddling the realms of decidedly catchy, boldly honest, and sultry flows, as well as, classy and easy sound, Lojay became an instant success. Lojay has a distinguishing voice that sets him apart. His voice is commanding yet subtle. It is demanding yet patient. Little surprise it had many wondering the identity of the artist behind the voice. And when Lojay graced the screen it was majestic. He displayed a style and mastery in front of the camera that suggests he has always been ready for the big stage.
In the space of months. Lojay went from relative obscurity to stardom that earned him two top 20 songs on the TurnTable Top 50, numerous fans, and a dream performance at O2 Arena in London.
A fast-rising star with special talent and style, Lojay graces the cover of the second issue of TurnTable Magazine. With his music, Lojay brings passion, class, and style. His music is art in its purest form. Free from all derivations. And this artistic purity is what Lojay brought along as he and his management gave us a peek into what has been a defining year.
Lojay's Story
TTC: How did this start for you?
Lojay: The first time I stepped into a studio was probably high school, around the age of 13 – it was Samklef's studio. He was charging 20,000 naira at the time. It was the Samklef's studio in Opebi. Funny enough it was around the same time when Wizkid was recording the Superstar album, songs like "Don't Dull." The crazy thing about this is that the very moment I entered that studio, I knew I wanted to be there, I felt comfortable, I felt like I could be there for as long as I wanted and just make music. But then, I grew up and over time, the doubts started creeping in about my ability to make it happen, you know?
TTC: Yeah, I get you.
Lojay: I guess when I was in the university, I got the energy to go back to music. My thought at the time was that the worst that could happen is that this doesn't become big but at least I gotta try. And if this doesn't work, I can move to something else after. But at least I knew I tried. That was just the best option for me at the time – to go into music and make it happen.
TTC: So you mentioned that you got back to Nigeria in 2018 and you recorded your first E.P in 2017 which means you recorded it in the UK before returning to Nigeria. So the first E.P dropped in 2017 and the second in 2021, that's a four-year gap which means a lot happened in that period.
LOJAY: In 2016/2017, I was just making music randomly. The aim was just to make good music and keep it at that. It wasn't necessarily like I was making music to blow, instead, it was to understand my craft and sound. So around that 2017 period, I recorded a lot of music, just keeping the vibe, then later we packaged a few songs together and we just put it out.
The music came out not the way I wanted it to but, to be honest, it helped me progress to understand my sound and it also contributed to my 2018 decision to fully go into music because it was from that 2018 period I started seeing money from music. The money I made at the time was not really that much – we are talking about music that I recorded, sent to someone to just mix & master, and distribute, but it at least renewed my passion to continue my music journey.
TTC: As you said, the Midnight Vibes EP helped your artistry, it helped you find your sound and also help you in making that decision. So getting back to Nigeria, what did you do first?
LOJAY: Even before I came back to Nigeria, I have already made up my mind that for me to accomplish what I wanted to do, I needed a strong team. I knew that everything in my career depended on it so the best way for me to do this is by having the right people around me that can help me make better decisions. These are people that I know are far better than me in what they do. I met Telz at some point and we knew that there was a strong relationship and we started making a lot of music, all the music I released around the 2019/2020 period was produced by Telz. Around that period, I also met my manager and a lot of other people. I basically just built my foundation and team during that period though it didn't happen as straightforward and simple as it sounds but over time, it grew to be much more.
TTC: So 2018/2019 was basically the foundation stage for yo. You built your team, found your sound, and worked with your producer.
LOJAY: Yeah, like Telz and I were literally cooked up in the house for a year with other people trying to make music and other people like Buju, Bad Boy Timz, Tems, and London, came around some times and everybody knew what we were trying to achieve and we just kept making mad music and vibes and it was worth it. It is crazy to see that every one that came around is doing so well.
TTC: You are one of the hottest Afrobeats artists out there currently, of course, it comes with success, and it comes with acclaim, because your name is out there but it also comes with a lot of pressure. How do you cope with the pressure?
LOJAY: For me, I don't really feel pressured about anything because I don't know how to pay much attention to moments I am under pressure. It's not like I am gifted or anything. It's just that I expected to get here at some point, so I feel prepared for it and it is kind of a blessing. Ever since I was little, it's as if I knew I would be famous and I made up my mind that if I ever get famous, I want to be like a "Genius Bad Guy", a nice guy. Bro, I have to tell you, I have seen what a picture can do to someone's day, just seeing the smile on their face. I have seen what a "how far now, how you dey?" can do to someone's day. For me, it is really about how I make someone feel when they have an interaction with me. Do they leave happy?
Interestingly, a similar scenario to what Lojay described would play out during the cover shoot. Lojay and his team arrived at the shoot around 3 pm, having been stuck in traffic for close to three hours. Expectedly, the artist looked tired and worn out. Getting food was even more frustrating; having ordered around 2 pm, the food wouldn't arrive until 4:45 pm. While we waited, someone approached Lojay's car in hope of may be starting a conversation or get a picture. His team told the person that he couldn't possibly do that at the moment as he was tired. To my surprise, I saw Lojay emerged from the car and approach the individual to take the picture with him. They would even make some jokes, exchange Instagram handles and a couple of other people joined in that little moment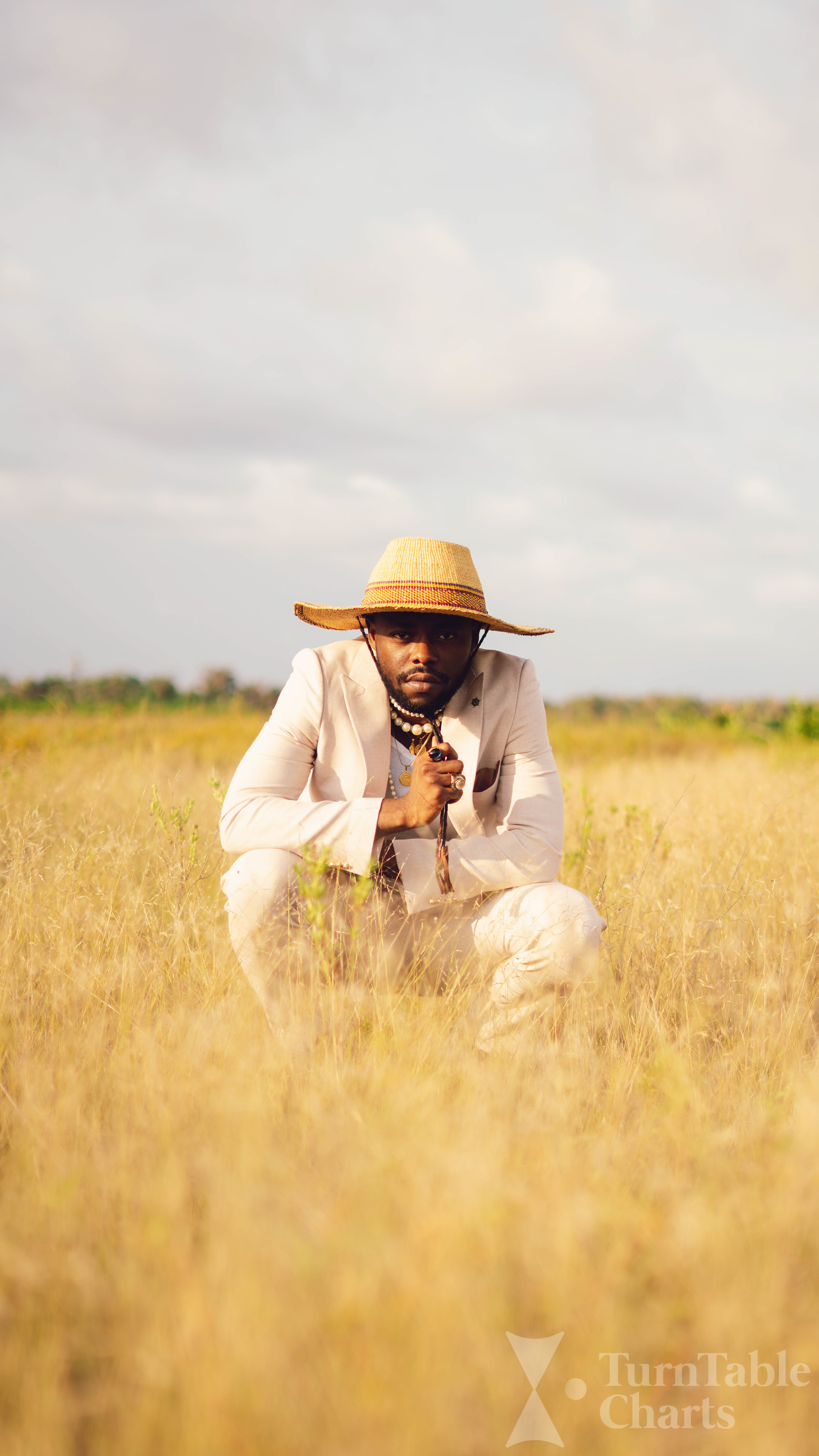 TTC: I think it makes for a better experience of your music, knowing that people can relate to you and still find you approachable in real life.
Lojay: I swear, I'm just a normal guy at the end of the day.
Ife: That just tells you the kind of person that he is, you know? You go to his Instagram and you check the comments – you see people asking questions and he replies, sometimes even making a conversation with the fans out of it. You will see a fan saying "thanks for today." He is not as popular as Jesus Christ yet but you can see it is already happening. I just had to chip in, to make that point. It is amazing to see something that he has always wanted as a kid and it's already happening. That just tells you the kind of person he is.
TTC: So from what you have said so far you sound like a relatable guy, what is your typical day like?
LOJAY: To be honest, it doesn't really have a structure. Sometimes I wake up much late in the morning but my typical day revolves around what I am scheduled to do that day. Whether I have an interview, a meeting, a show, or making music but it mostly involves me going to the studio and I am usually up all night cooked up in the studio, I guess that is why my days are like that.
TTC: So those guys that you mentioned earlier, in the house, do you still keep in touch with them?
LOJAY: Not really. Definitely, I don't think there is anyone in room 202 (yeah, that's the name) that I'm not still close to today. I still talk to all of them but we are not as close as we were before.
LV N ATTN: How Lojay Made the Biggest EP of 2021
LV N ATTN EP was the breakthrough for Lojay in Nigerian music. "Tonongo," the lead single of the EP preceded the EP's release. "Tonongo" is an audacious song that contained some of the mind-blowing cheek-in-tongue lyrics that Lojay is now known for. "Tonongo" made a lot of people take notice of Lojay and a growing number of listeners couldn't wait for more music from the artist. It would come in form of the "LV N ATTN" EP with renowned producer Sarz. A viral video of Lojay reacting to hearing Wizkid on the title track of the project further raised Lojay's profile. Many also thought "LV N ATTN" would be the most popular song of the 5-track EP. However, that would come in form of "Monalisa," a soothing Amapiano track that has become a radio and TV staple as well as a mainstay on several streaming charts in the country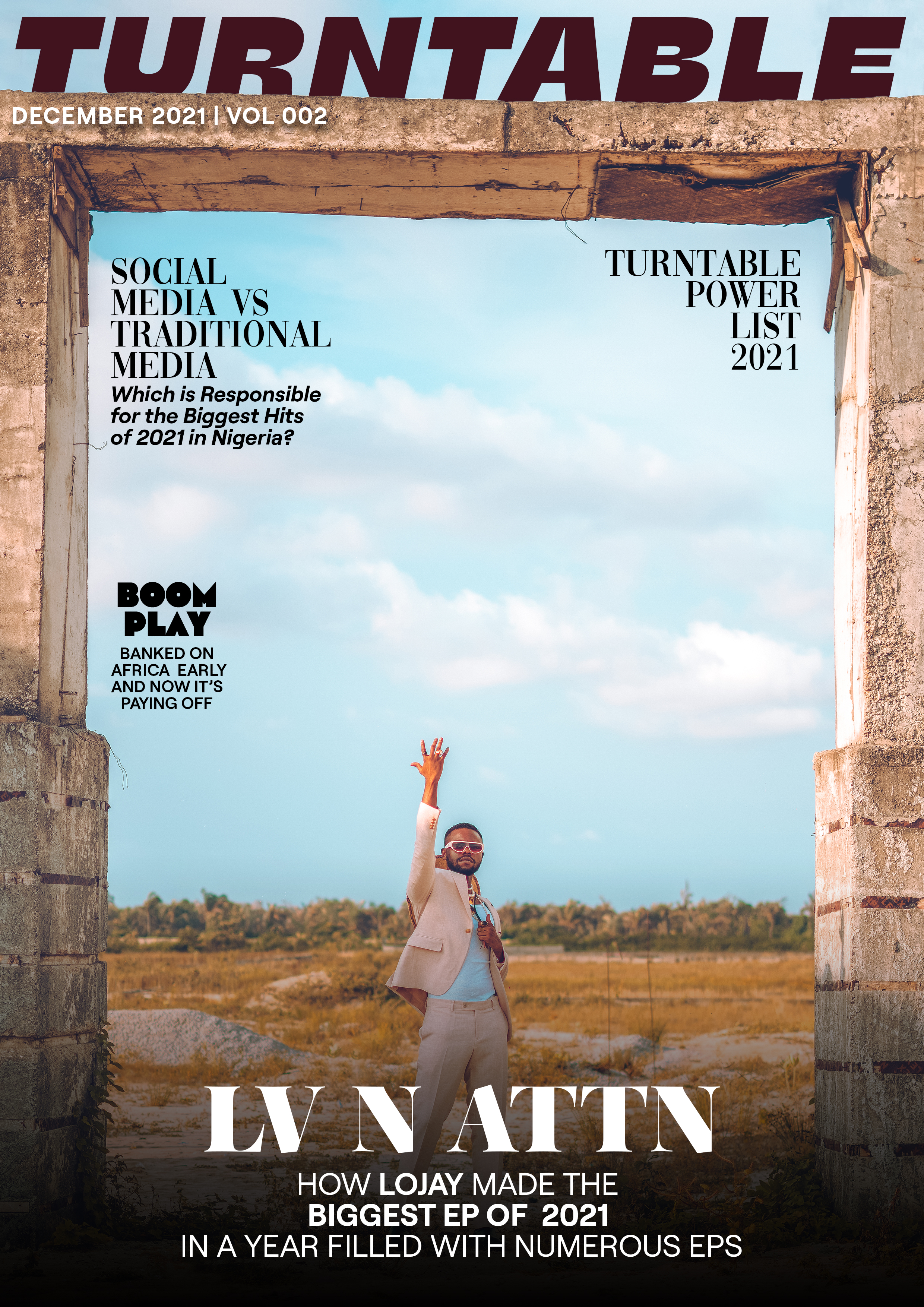 TTC: "LV N ATTN" EP – do you feel it achieved everything you imagined?
Ife: Yeah, it did, or to put it correctly, it is achieving and it will continue to achieve more. It hasn't even started. Lojay: For me, I imagined that with this EP, let people just know that there is this guy called Lojay. I felt like there are more jams coming but this should serve as an introduction to his artistry – but I had no idea it would go this far. I was having this convo with someone lately on why people are so focused on "Monalisa" – there are still more jams on that EP that when they are done with "Monalisa," they will still have more to enjoy from the EP. They will keep listening for as long as possible. There are timeless records on that project.
TTC: Was that something you were intentional about when creating the album?
Lojay: Yeah, I wanted something that people could keep listening to. It wasn't about having bangers, I wasn't trying to make a banger with any of the records – "Monalisa" just happened to be one. It is a beautiful song but it is also a comfortable song, at least that's what I think. But the other songs will catch people because that's what I wanted. Let it have a meaning, let it have a connection to the listener. Take out each of the songs on the project and just sit down with them – you'd realize that each of them is just as good as the next.
TTC: For the casual listener, Lojay wasn't a thing at the start of the year. We are at the end of the year and you have a "Song of the Year" contender that virtually a larger percentage of the country can say they've heard at least once and perhaps, the biggest EP of the year?
Ife: My neighbor's driver was washing his car and I heard "Monalisa" playing. I was upstairs, I even tried to record the whole thing but I'm not sure I got it from the angle I was standing. I thought, "Omo, this song has followed me home"
TTC: I'm sure that's what you wanted.
Ife: Oh yeah, it is. That's what everyone wants when they put out music but it is just surreal to witness. I read a study yesterday about how being an artist is very common today. Every Friday there is a new artist and for the streaming platforms, that's what they want – for their subscribers to have as many options as possible. But when you get that one song to stick in hundreds of thousands, that's it.
Look at the angle of a guy trying to make a baby with his partner, you keep shooting until one stick. Now you have the one that stuck and you'd begin to wonder, "what do we do with this baby now?" That's why I said earlier that we're still achieving. There is still so much that can be done with the entire EP. I'm not sure if you heard someone talking to me at the office but that was a proposal from a company regarding "Monalisa." And the good thing about "Monalisa" is that it has reached the point where we don't even have to think about stuff on it. It is people coming to us with ideas on how to be a part of it.
Lojay: What the fuck is that song?!
Ife: Bro! That's the reaction that people get when they hear the song for the first time and it helps to further the reach organically because you want the next person to listen to the madness you just heard.
TTC: I was in Obalende on Friday, I needed to wait a few hours before coming to Lekki, so I had to find a restaurant to just wait out the minutes and get something to eat. I saw some kids emerge from a roadside shop and one of them just started singing "baby corner-corner, waka-waka when you enter Omalicha." This kid was like 5 or 6 and to sing a part of the song like that, you'd know he was quite familiar with the song.
Ife: We can arrange a show in Obalende if that's what they want (Laughs). I had a conversation with some people weeks back and they wanted to know what would best describe the feeling from this. I told them "unprecedented." A lot of people have done it but none quite like this. We aimed for something that would make people ask "who is that guy?' and it is crazy that we did have an unprecedented run with "Monalisa."
Beyond the business of it all, you also want to leave a legacy you know? That's why we worked with someone like Sarz whose legacy is up there among the greatest in the business. For someone to tell he's not your mate and you can't argue – that's the legacy of it all. At the end of the day, you want to look back at the name Lojay and think yeah, he did something. See, this EP go still enter next summer. People will keep on listening. E go reach one point wey people go dey beg to drop new music.
Lojay: "Monalisa" is just the second video of the project and there are still exciting videos that will come out of that EP.
Ife: Just the second video, so you can imagine. I think the one song that I really felt on that EP is "Park O X3"
TTC: The norm with music in Nigeria and even the charts points is to have that one song on your EP that will serve as a reference point. "LV N ATTN" has 3 out of a 5-track EP – and as you said, you still have more plans.
Lojay: Yeah it is surreal. Sometimes when I see people listen to the stuff I make, I go like…wow!
TTC: Shey na me make this record?
Lojay: Bro… it connects. And that's everything to me.
TTC: Your rise to stardom was mostly unexpected for the casual listener, but you would know how much work you've put in to get to this moment.
Lojay: I understand that perspective. They didn't know Lojay before and now they can't stop listening to his music, so it is normal that they have a view like that. But as you said, I've definitely put in the work. I got two degrees before I started doing music; a marketing degree and management for my second degree. I think it is one of the things that made me know I needed to get a team first and foremost. You know I'm independent right? So I'd have to figure out how best to do this shit and make it work.
TTC: I guess it is true that whatever you study still shows in what you decide to practice after school.
Lojay: Yeah. The thing is I don't even see music as the end for me. I want to be an executive in music and still work outside the music scene. There is so much that one can do and I'd like to create a legacy and wealth, so yeah. I want to use the music as a launching pad to do more. Look at Kanye West, he started with music and then went into fashion – and it is the latter that made him a billionaire. Look at Jay Z, he has Roc Nation, Tidal, and many more. I think all these artists realized that you couldn't be hot forever and they used the leverage they had in music to do more. If you are able to transcend music, you'd stay relevant even after your days of being hot. At 45 or something like that, I want to have a stronghold on music and I want to have a stronghold on other things beyond the music. Music is like capital, like something that can be used to make more things. It is not the end, it is just a means. You can meet a lot of people that you need to help you reach a bigger level.
TTC: It gives access.
Lojay: Yeah, I feel like that is really the most important thing that music gives you. The access to the people and resources you need to make generational wealth. Look at names like Rihanna, Kanye West, Dr. Dre.
TTC: It takes us back to the case of Kanye that at some point wanted to create something bigger than just Kanye West the artist. And he went on several interviews that people just felt like he was crazy after it – Sway, Breakfast Club, and the likes.
Lojay: They didn't get it then and now they do. I feel like Kanye is a brilliant person and he was always bound to do something great. The greatest power you can have is to be smart and Kanye is smart.
Lojay has a distinctive voice that somewhat confuses listeners on his gender. With a calm yet commanding voice that leans behind the beat delivering mind piercing unique vocals that leaves listeners wondering "Who's this person?" The confusion had gotten to a point that Lojay could no longer ignore and even had to tweet "Lojay is not a girl."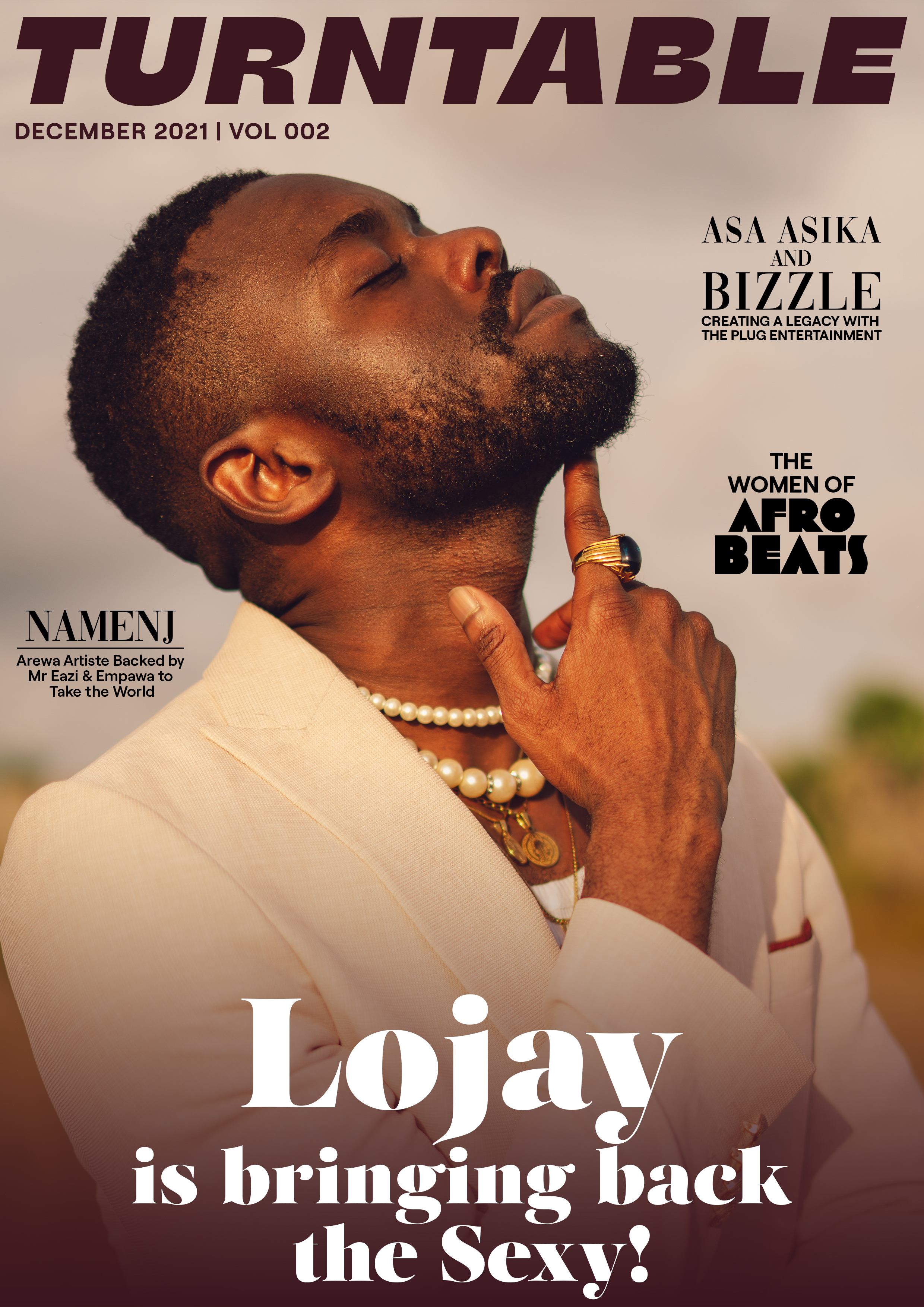 Lojay is Bringing Back the Sexy!
TTC: How did you arrive at your sound and music? How did you make your music sexy but still relatable?
Lojay: I feel like the best thing to describe my music is that it is honest. See, if my girlfriend ever wants to know what I'm doing on the streets, she just has to listen to my lyrics.
TTC: [Laughs]
Lojay: Bro, I'm serious. I just express myself in the lyrics – today I'm doing an interview and I'm asked about the success of my EP, this could just be my next song.
TTC: I hope it is. That would be nice [Laughs]
Lojay: [Laughs] That's just how I make music. Every single thing that you heard on "LV N ATTN" is an expression of something that happened or a picture that I was painting based on something that happened. "Tonongo" happened. Everything you heard on that song including that ass cheek happened. Same thing with "Monalisa," "Panty," "LV N ATTN" – when I hear that second verse of "LV N ATTN," I laugh. Let me tell you a funny story; I didn't record any new music for a while. I had a particular song I was working on but I couldn't make anything meaningful with it. So I just decided that I needed to have an experience to make the song work.
TTC: To fill the void.
Lojay: Yeah. I had an argument with somebody that I was with. We settled the argument and once we settled, yeah [smiles]. After that, I went straight to my system and said all these things, "oh my darling, cool it down, why your blood too hot, bring it down, omo when you pull it down, you put it all the way, baddie but your boyfriend not know." Once I finished that take, the next thing I said was "girl, I need your love and attention." At first, when I heard the song, I was like "it just sounds okay, alright" but I went back to it and I was like…wait! Wait, this is something. I finished that part, went to the hotel, had another experience, and came back to finish the second verse. I started with "Omoge tell me to say she wanna pull up to Eko," that was Eko Hotel, "Loving in the balcony unbuckling your blom blom." Everything happened. My music is pure expression. You won't hear me talk about anything that didn't happen in my music.
TTC: I wished I came up with the "you win the ass cheek Ballon D'or" line. The first time I heard that line, I thought the artist behind this would be audacious, to say the least.
Ife: You know there is one thing we're forgetting in all of these – it is the delivery. The rhythm, the melody. You heard something so outrageous but you still felt like it is something to also enjoy. The way it is delivered to you makes you take whatever line he says. That is one thing I will give to him.
Lojay: I KNOW THE WORK, MY GUY! [Laughs]
Ife: There is a song that you will come to hear and this is not even hype – you will love it. There is something that Lojay has that makes him unique, he writes very well but it is the delivery. You can almost picture everything he says but the music you are hearing is equally soothing.
Only a few artists have that kind of effect on me – the way Burna Boy delivers too is very real. He could put together two words that don't necessarily make that much sense but there is a way he delivers that you would still enjoy it.
TTC: You know I stopped listening to "20 10 20" because I was starting to enjoy a song that was supposed to make me feel bad.
Ife: Do you understand? You shouldn't enjoy that song but you will because of the delivery.
Lojay: I've only had one experience of crying while listening to music and it came from Burna Boy.
Ife: Same.
Lojay: The song was "Another Story"
Ife: Mine was "All My Life" with Major Lazer. I can remember vividly where I was when I first heard the song. I was coming from Abuja that day from a project that we got the call a day prior. I wasn't really prepared for the project but I still had to leave Lagos for Abuja because we had to do this thing – and we finished it. On our way back, I was so tired, then I heard the song and I started crying.
TTC & Lojay: [Laughs]
Ife: You know there is a level of belief that you have for someone that you are working with – and you'd just be like, "yeah, I'd do anything for this person." That is what I have for Lojay, to know that I was a part of their journey and I gave it my all because I so much believe in the guy. But based on what we're talking about, in terms of delivery, Lojay is up there among the best. If you guys have talked about his process in creating music, he would have told you that he had to learn and unlearn some things.
Lojay: As long I keep having crazy experiences, I will keep making music. I'm here for both a good time and a long time (I've probably tweeted that a couple of times) but I honestly know that if I keep making music and having these experiences, then this music is always going to feel this way. I will always make music that you will connect with.
TTC: Do you consider your music experimental?
Lojay: Yeah, there is a bit of experimentation in the project and I did set out to make music that will sound different from other things out there, so you can say there was a bit of experimentation in the music. When you listen to a song like "Tonongo," you'd know there is nothing out there that sounds like this. That is because I want to also push the boundaries of what you know as Afro-Pop and Afrobeats.
TTC: Let's tie this back to the fact that your music makes people feel like…Omo! There is a beautiful, sensual feel about your music that makes it so easy to listen to.
Lojay: I want to express what everyone is thinking but they are unable to say. My music is… edgy.
TTC: When you look at it, your songs, your videos, the edginess exists
Lojay: When we start pushing other songs from the project, there are some conversations we will start having. But let's just wait.
TTC: At some point, you had to come out to say "Lojay is not a girl" and people actually believed that the person behind "Monalisa" or "LV N ATTN" is a girl. I think there is an androgynous touch to your music.
Lojay: First of all, I feel like those that think I'm a girl probably think that because of my voice especially "Monalisa" – there is a lot of high pitch in the song and you now go to the club where the DJ tweaks it even further. But in terms of making androgynous music, I just want to paint a vivid picture.
TTC: You want their imagination to work
Lojay: That's the word. I really want your imagination to work. The music should feel like we're having a conversation.
TTC: So do you have any new music coming out?
Lojay: Can I answer this part right now? Lojay asks his manager with a conspiratorial smile
Ife: Come on, say what you want to say His Manager smiles broadly
Lojay: I still have a lot of music that I will release at some point but yeah the focus is on "LV N ATTN" at the moment.
Ife: I think we wanted to add like three new songs and do a short film with the project but we just chilled on that.
Lojay: Yeah, I remember that [Smiles]. But yeah, there is more music in store. More amazing music. I'm talking about music that shows my growth as an artist and where I am right now.
Ife: If we really want to quantify it, he has at least another 6 "LV N ATTN" at the moment. Yeah, that's it. Whenever I come back and I hear a new recording from him that's because I'm not really a part of the recording process, there is always a wow factor with the new songs. I'm like "Ahh! Okay!"
Lojay: See this guy, you're now used to it. I've spoilt him.
Ife: [Laughs] It is not even about that. I just feel like there is a standard that I've set for you based on what I've heard from you – I already know when he is not trying. I know when he is making music and he is not trying. Like you can force him to try and make it but it would just be like…bleh!
TTC: He wouldn't really give his best
Ife: That's the thing – he also knows when to put his best foot forward and the magnitude of certain opportunities. There are some creatives that you can't just force them to do something when they are not in the mood. If you do, they are just going to fuck it up. But he knows that there are sometimes when you don't have to enjoy what you're doing but you do it still. Of course, we try as much as possible to ensure that this rarely happens.
Lojay: For my music, I treat it like there is a standard to maintain. I know what I want to hear when I make music.
Ife: He treats every day like it is his last day recording. It is the same way Kobe treated his basketball; he treated every game like it was his last and there was someone that had never seen him play before, so he had to give them a great game. Sometimes, we all have some situations where we don't really want to do something. But if someone enjoys your craft and they are ready to work with you, I think you owe it to them not to cheat them out of the experience of working with the best version of you. And Lojay knows that.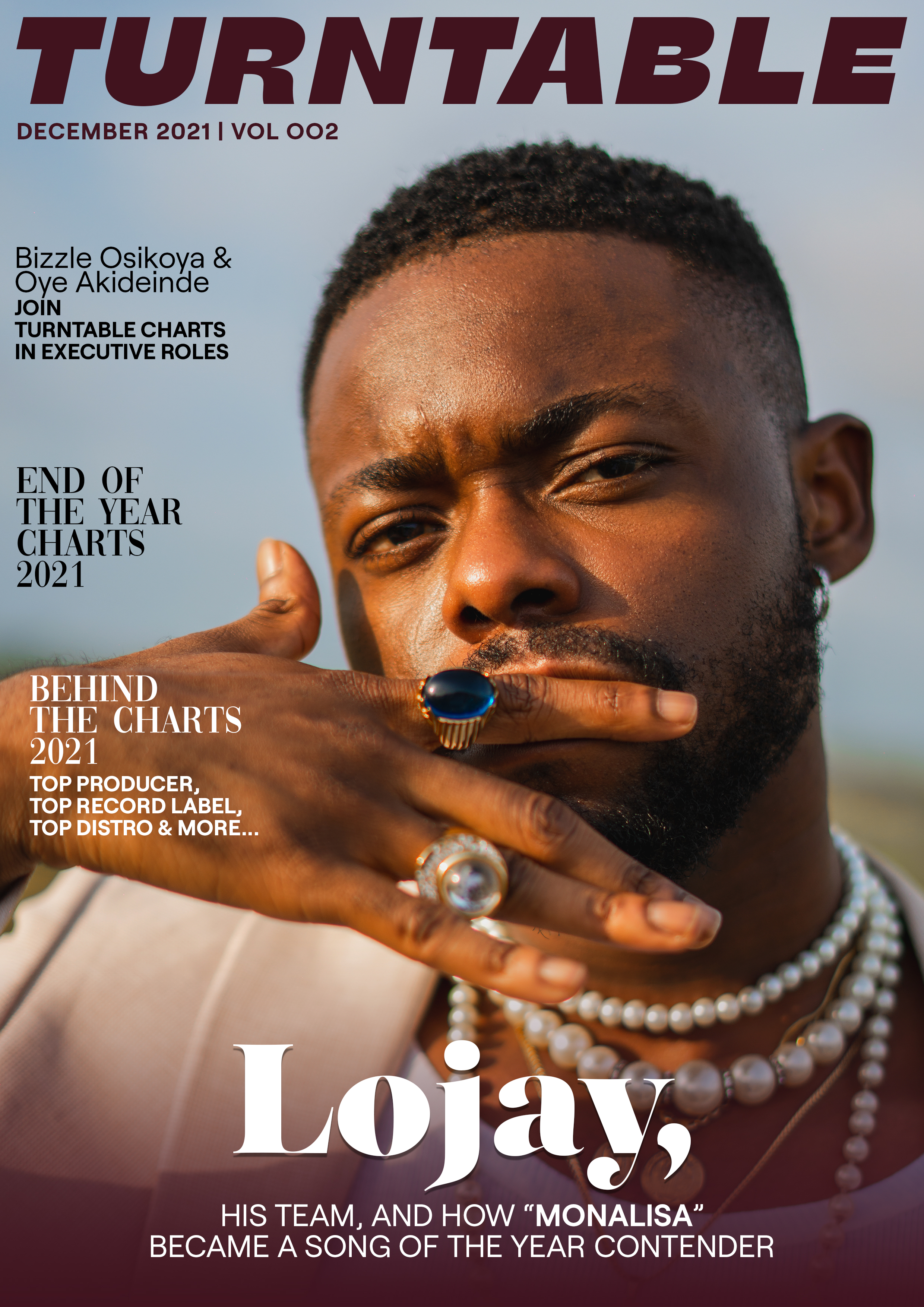 A tall dark man walks into the studio and joins the interview, he would later introduce himself as Anthony Egu, Lojay's manager. The duo of Ife and Anthony works with Lojay. Ife handles the branding while Anthony handles talent and music. This forms a structured system around Lojay
Lojay, His Team and How "Monalisa" Became a Song of the Year Contender
TTC: So what do you do with Lojay?
Anthony: I manage Lojay, I also manage Tomi Thomas. I started a management company together with Ife that houses these two artists.
TTC: When did your professional relationship with Lojay started?
Anthony: I started working with Lojay about three years ago, was it 2019 or 2018?
Lojay: I think we met in 2018 before we started working together.
Anthony: That's true. I met him in 2018 when my friend, Telz, introduced me to an artist that he believed was fire. He told me I had to hear the music for myself before making a decision. He didn't really put any pressure to work with him [Lojay] at the time – it was more like me coming to the house a couple of times and just seeing what the space was like, what they were doing. From there, we just had a connection and started working together. We dropped a single called "Ekuro" and even had a video – that was a crazy experience and that was when the pandemic hit us like boom! I remember that we were in the process of figuring out what to do next when the pandemic hit and we just had to like reset. We were in the studio almost every day.
TTC: That was before the pandemic?
Anthony: Before and during the pandemic. Pandemic didn't affect our studio sessions, we were just cooking. I had to leave the mainland and come to the island because we all had to live together during the pandemic. We were actually thinking of putting out music during that period but we realized that there was something missing. The sound is there but we had to refine it. I could hear it, anyone that knew him then could hear it but we had to refine it in such a way that it would stand out. So we decided to work with Sarz. You know how the game is where there are some producers that you can work with, others that you can't even think of working with until your career reaches a certain point – that is the point when you as an artist becomes a need for them, not a want.
So we decided to work with Sarz but we knew it would be impossible. So we went through Sarz's lawyer, sent some of the music we were working on and Sarz just fucked with it when he heard it. And the rest is history.
TTC: What is the structure of your company?
Anthony: We are an experienced management company, I've worked with a lot of artists and he [Ife] has worked with a lot of brands and people. We just thought it made more sense to combine and manage the affairs of Tomi and Lojay.
Ife: There is one thing to note; regardless of the structure, there is still a personal relationship between all of us involved. Lojay is basically family.
Ife shakes Lojay's hands and there's obvious emotion on their faces
Anthony: Why you come dey shake am? [Laughs]
Ife: [Laughs] The structure is important but the background also makes things easier.
Anthony: I grew up around Tom, together on the mainland, we went to different schools but we lived in the same areas.
Ife: If you really look at it, this was meant to be. We have a lot of friends and family in common and it makes sense you know? Who else do you trust with your career than those that you grew up with and know you best? As I said, I manage the branding, he knows how to handle the talent and music. I sometimes don't but I like them. What I do know how to do is figure out how we can promote, sell something and monetize. I've worked with a lot of brands, Anthony works with a lot of artists – it just felt right to come together to create something like this with Lojay. There is an overlapping factor of us knowing each other well which is why sometimes, he plays some stuff for me and I give my opinion on the music – and I also get his insight on how to sell something or monetize. Like I said, legacy is big for us all.
TTC: How would you describe Lojay as an artist?
Anthony: Not a lot of artists have the ability to create music based on what they are currently going through. His music is based on his realities. When I listen to the music he makes, first of all, I know there is a uniqueness to it. I think of him as a Drake type of artist because he's probably the only artist I see when I listen to Lojay's music. Remove the cockiness of Drake and add more bad-boy image. I feel like the latter is a side of him that you will get to see more as he grows and I can't wait to see how it all plays out.
I'm going to add that I don't have a say in his creative process but he values my opinion. If I feel like I have something to say, I do but it rarely happens because he knows what he is doing at all times. I never want to be the person that has an opinion about someone's creative process and then that creative has to rely on you because it worked the first time or the second time. I just want him to make his music.