Majesty Lyn, a rising Afro-Fusion artist has released a 5-track project that captures a range of genres coupled with a broad spectrum of emotions, thoughts, and feelings titled "Things on Things."
Majesty Lyn's sound has recently been enhanced to accommodate her dexterity while emphasizing her dynamic vocal proclivities. Lyn shares a multi-sound project called "Things On Things" following the release of two singles from the project, "Notice" and "Stop Dancing."
In a fast-paced and eventful ecosystem where everything appears to be happening at once; from national issues such as insecurity, economic meltdown, and political party drama to personal issues such as career, heartbreak, and relationship excesses, Majesty Lyn partners with Freeme Music to share "Things on Things," as a reflection and an answer to many worries and fears of young women going through the same things as her. She calls to them as a kindred spirit, asserting herself as one who understands the growing pains of life, especially in a dogged country like Nigeria. The project is layered with Reggae, R&B, Alté (Alternative), and Afrobeats sounds.
Born Charleslyn Rosebeth Charles in 1997, Lyn has absorbed her experiences as a young talent hustling her way through the industry from Port Harcourt to Lagos, where she now resides.
Lyn's vulnerability is captured in "On You," a reggae-infused R&B song produced by Toyin Ores, in which she expresses her feelings for her lover. She is heard asserting her prowess as she croons, "put it on you." A great song to get the party started on a perfect bar date.
"Notice," produced by TUZI, is the perfect song for Lyns' drive to succeed and command the attention her incredible talent deserves.
Majesty Lyn pours her emotions into another Toyin Ores produced track "Call Me Back," a groovy-recapitulating mid-tempo alternative song. She expresses her disappointment to her lover and announces her intention to end the relationship.
"Stop Dancing," a pop song featuring fellow Jackychan and produced by Psalmist, combines a feel-good, Caribbean-island-party vibe with sensual African melodies.
Majesty Lyn digs up more emotions with "Tenderly," demanding more trust, respect, and attention. Her vocals, wordings, and melodies are capable of reviving any dormant relationship. The track is produced by Raxx.
With 5-songs, Majesty Lyn attempts to summarize her recent journey through life. She captures her mistakes, her losses, wins, and most importantly her growth. In "Things On Things", the multi-genre project, a perfect fragment of Lyn's substantial talent, the artist uncovers the realities of a young lady in her 20s, trying to survive the vexatious costs of living in Lagos.
STREAM "Things On Things" Here
FOLLOW MAJESTY LYN
Instagram | Facebook | Twitter | Tik Tok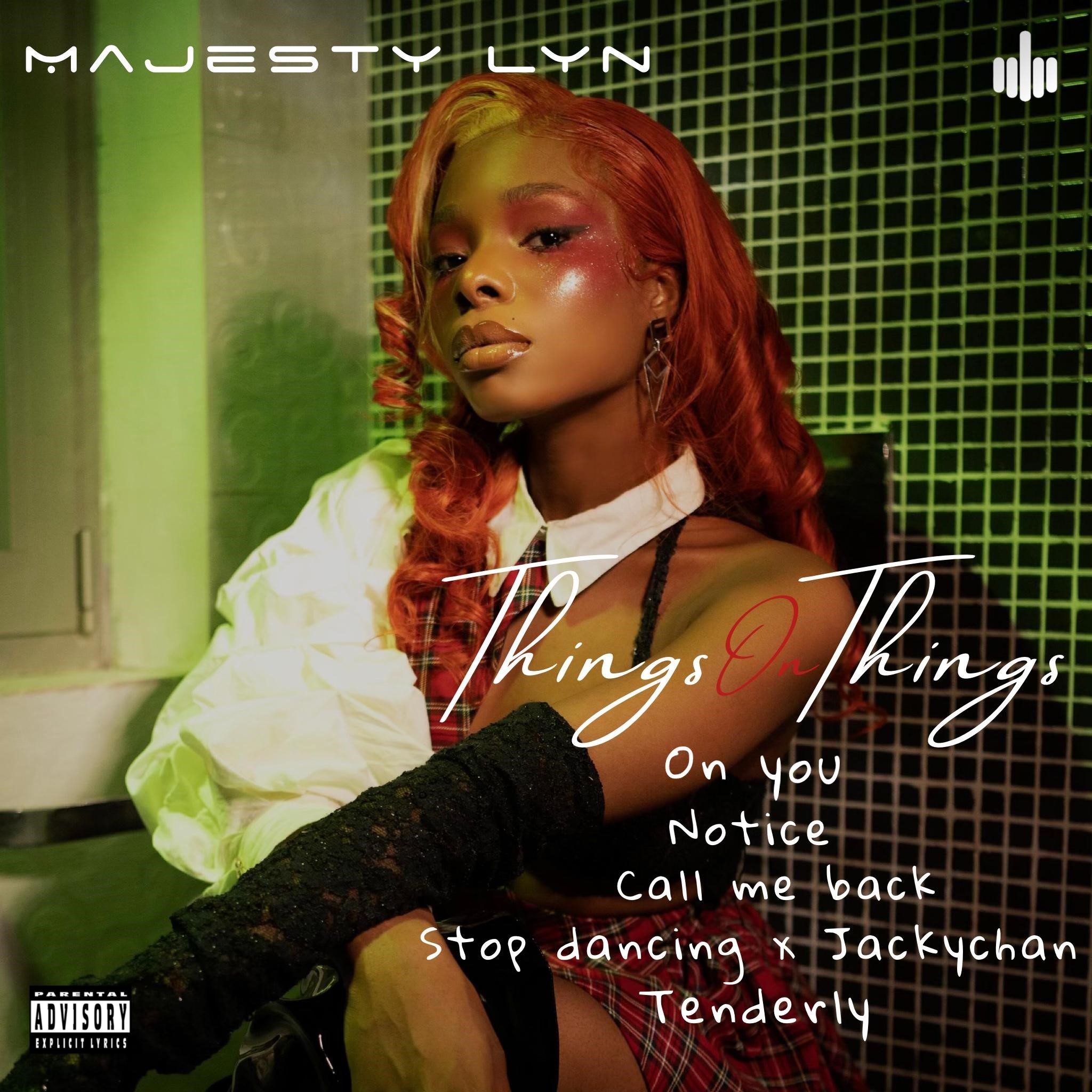 About Majesty Lyn
Charlesyn Rosbeth Charles_,_ professionally known as Majesty Lyn, is a rapper, singer, songwriter, and Digital Artist from Port Harcourt City, Rivers State. After releasing three EPs, Majesty Lyn is re-emerging into the Nigerian soundscape with her upcoming EP, "Things on Things". Majesty Lyn, is the exact embodiment of a musical and digital artist pushing the boundaries in both worlds.
With the hard bars of battle rap, the heart-felt lyrics of RnB, and the energetic playfulness of Afrobeats, Majesty Lyn has emerged as the artist to watch in the Nigerian soundscape. Lyn, as she is fondly called, pushes listeners to hear past the constructs of the current Afro-fusion/Afro RnB world, creating a genre that defies the norms of typical Afro-sounds into something that can be recognized and enjoyed by music consumers from different backgrounds, lived experiences, and tastes; an Afro-Progressive wave.