"Going back to Abbey Road for the London session of the soundtrack recording was a full circle moment for me. My first time at the studio was as a tag along with my friend and musical partner, DAPTheContract who won a Converse Rubber Tracks competition and the prize was a recording session with Mark Ronson at the iconic studio. Now, going back for something this monumental; it was very surreal and it meant a lot to me"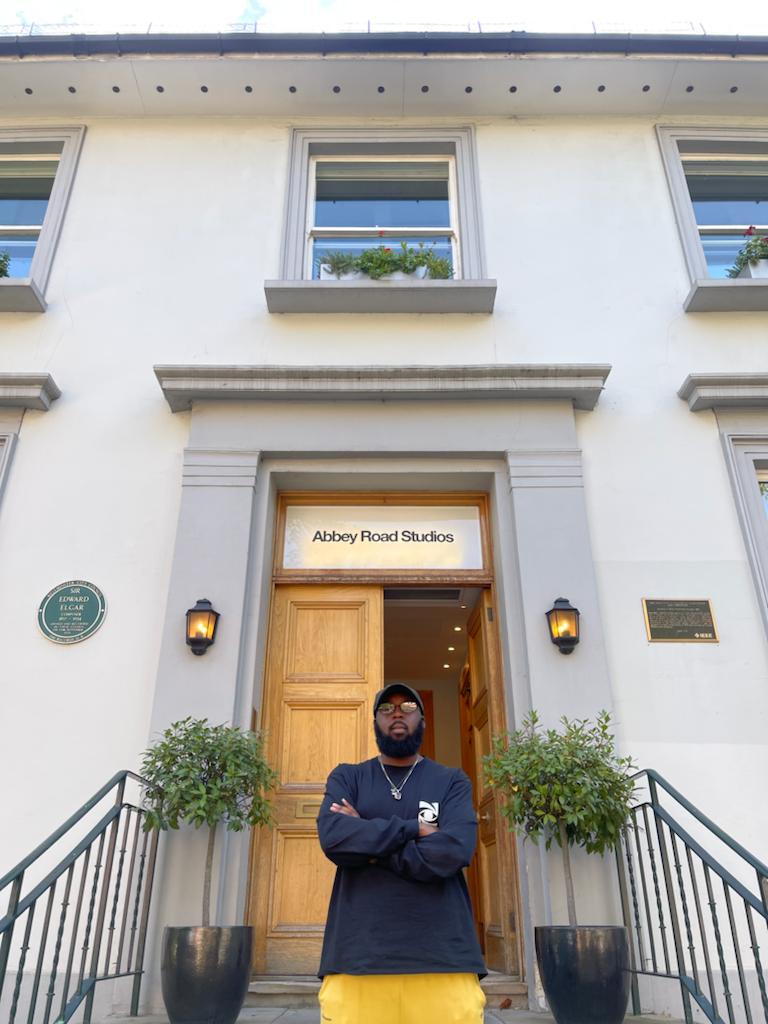 Movie soundtracks are an elevated form of musical art. They bridge the unseen gap between the world of the movie and that of the audience. Movie soundtracks when curated impeccably and employed appropriately, have the ability to create a gripping & lasting effect on the viewing listener. From being creatively adapted to explain moments in a film, to filling movie plot holes; soundtrack utility is encompassing. The right soundtrack creates lasting impressions that springs forth nostalgic feelings that potentially contribute to fostering a movie's cult following.
From memorable tracks like "Don't You (Forget About Me)" and "Simple Minds" on the breakfast club; to rave of the moment songs like "Batdance" (Batman); "Kiss from a Rose" (Batman Forever), "Lose yourself", "Wanksta", "8 Mile & Running" (8 mile), "The Greatest Show", "Rewrite the Stars", "This is Me", "Never Enough" (The greatest showman); Oh Brother Where Art Thou; Boogie Nights (whose soundtrack absolutely elevated the movie to iconic status); The Black Panther album; "Purple Rain"
All are among significant soundtracks and soundtrack albums that came to define their respective movies and in certain instances take on a whole life of their own to become massive entities, distinct from the original movie they were made for.
Creating movie soundtracks that live long after the cinema lights go out, capturing the essence of the story and translating the lessons from one generation to the next, entails the highest level of talent and creativity harnessed in such a way as to produce an effect so great that it reverberates across the audio-visual ecosphere. The aforementioned could be the case or it may just require an organizer and producer with terrific musical ears and great gut instincts as Seni Saraki most recently demonstrated.
In May of 2022, composer Ludwig Goransson and Director Ryan Coogler reached out to Seni to join an already ongoing process that would ultimately culminate in the soundtrack album of the sequel to one of the biggest movies of all-time.
We recently caught up with him and discussed about his role on this humongous international project and whichever of his ideas and influences played a part in the final structure of the album.
Getting that call to work on one of the biggest movies this year and seeing the reception that the first soundtrack got, knowing that there's a bar that has been set in terms of quality. How were you able to not only meet up with that standard but also find a way to bring the African uniqueness to it?
Seni: For me, I go into every project trusting my ears and my gut on what I think I can bring and the type of nuance I think I can bring to anything I'm working on. At the end of the day, I think I can only thank Ryan and Ludwig for trusting my opinions on some things and trusting me to bring the right people on board for the project. In terms of pressure, I didn't work on the first one so I didn't feel pressured; for us it was just doing justice to the story that Ryan is telling in this movie. It wasn't really about comparing it to the last movie or soundtrack.
Looking at the credits, you were able to bring a lot of people with different sounds, beyond the artists, but also producers, engineers and other creatives.
Seni: Yeah, there are even more people that we worked with during the time in Lagos. We were recording a lot of stuff for the project and Ludwig used some of it in the final score. It is hard to recall the exact figure now but we worked with 20-40 musicians in Lagos, who came from all over Nigeria. To me, that was the most amazing part of the project; being able to bring in Africans from everywhere to be able to work on a project like this. It was a really amazing experience for everybody involved and for me, that's what makes the outcome so rewarding.
He praised Ludwig's immense creativity and his openness to hearing new sounds as a key driver for how the album eventually took shape. He credits his panache for music to his early upbringing and those around him who cultivated the spark into a lightning bolt.
I know that you have enough experience in terms of making music, working with artistes and talents but when it comes to score, it's a totally different ball game. How were you able to immerse yourself into that world?
Seni: It feels like a very much different skill set but it is very much based on trusting your gut and what you're hearing. Also, Ludwig is like a genius, he's just a ridiculously good composer and he really led those sessions. One thing a lot of people wouldn't know is how he is so educated on African instruments.
After making the first movie, he knew what he wanted, he was ready to hear new things. I'm someone that very much came up on recorded music and that's how I got my own music education. I was a big fan of rap music, a big fan of early African pop music and rappers from the continent and outside the continent.
I used to have a friend who was into the musical craft; he was always embedded in live music, he could play multiple instruments to a very high degree, so I'd always watch him and try to understand that side of music when I was growing up. I played drums and trumpets but I never got to a classical level, a trained level or diploma level but it's something I've always been interested in. So, to get a chance to delve back into that side of music especially with local instruments, it was super important for me and I enjoyed every bit of that experience. Also, being able to work with a good friend of mine like Lady Donli on this and bringing her on it to help out was like a blessing. Donli is an amazing person, we started off just working and we became good friends, she's someone I can rely on and she feels the same way with me**.**
Creating a soundtrack album for a movie, and not just any movie but a Black Panther movie, sequel to the demise of the very much beloved lead actor can be very delicate. It would involve a balancing act between commercialism and lyricism while staying true to the movie's roots & storyline. The right kind of artistes would be needed to make this possible, something Seni and the rest of the team kept in mind during the course of making the album.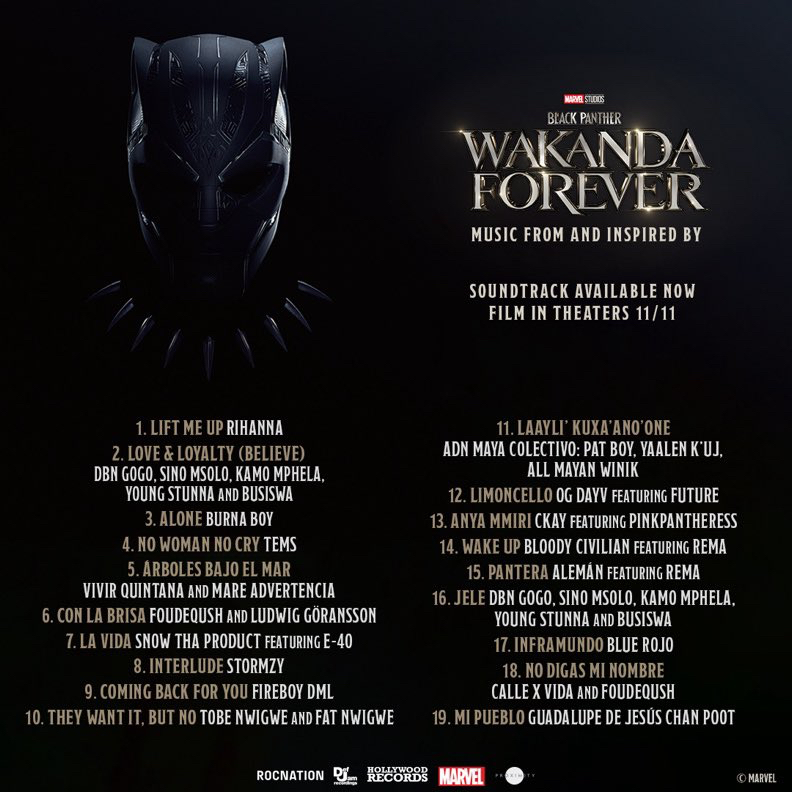 What was the selection process for the artists you used on each songs in context of the movie?
Seni: Ryan and Ludwig were very intentional with how they made the music for this movie because they very much wanted it to be a soundtrack for the movie. These days, a lot of albums for movies are not soundtracks, they are just like an extra product. This was very much a soundtrack for the movie – in every sense of the word. A lot of the songs on the album are in the movie. I won't say there was a selection process in that sense but having Ryan and Ludwig being on ground in Lagos to guide the process of the types of music we wanted to make and the type of artist we wanted to work with, the type of producers we were bringing in, the type of sounds we wanted to make, they obviously knew what they wanted.
Especially Ryan, he knew the type of movie he had made. Ryan and Ludwig would sit the artiste down and speak to them about the movie; the scenes to give them inspirations on what to create. I hadn't seen the movie until the premiere in LA but during the sessions, I was the one explaining to artistes that this is what we're going for.
How did that work?
Seni: It was just so clear. One day, Ryan sat us down to explain, he wouldn't even tell us what happened in the scene but once he paints the picture and the theme and the motive, it was so clear what we needed to do and it was different for every artist. So even though I had not seen the movie, I knew what the movie needed.
Seeing that there are a few projects centered on Africa whether through an artist or a movie in recent years, how do you think Black Panther would be able to resonate with both American and African audiences way better than other projects with similar theme or purpose?
Seni: With this project, I'm not really comparing it to anything else, it was really about doing justice to the movie and to the world that Ryan and Ludwig have created – that was really the primary aim. In terms of my own contribution and in terms of appealing to audiences, African music has gotten bigger, so there was always going to be an element of people being more receptive to this than maybe they were of other projects in the past. I think it's also a blessing that a platform like this trusted Africans to make African music.
I think what's most beautiful about this is that there are so many different genres within African music that are on this project. In previous years, African music has been limited to Afro-pop (for projects like this) or is limited to a certain kind of music from the continent but what I've always tried to do in any room I'm in is to emphasize on one thing; just because you're from Africa doesn't mean you have to make a specific type of music, you can make any type of music you want and I think this soundtrack exemplified that very well.
And outside of the Wakanda Forever, Native Records just recently announced a joint venture with Def Jam Records
Seni: Yes, our first artiste, ODUMODUBLVCK just released his latest single and I can't wait for the world to hear and see other things we have in store.