Emerging alt-pop artiste, Somadina released her debut EP titled Heart of The Heavenly Undeniable (HOTHU) on November 23, 2022. For those familiar with the artiste, the 11--track EP is the culmination of her artistic expression over the years. The album features contributions from Chi Virgo, L0la, Zamir, The Cavemen, and Odunsi the Engine.
In an interview with TurnTable Charts, she revealed that the she started making songs that eventually made up the album some two years ago.
"It's an EP that feels like an album. I've been making it for the last two years, I got to work with a lot of producers and writers. I think I was just making songs and enjoying, experiencing life and growing and it ended up coming together as a full project. It was when I made the last album when it felt like I have an album"
When asked about the unique title of the project, she revealed; "It was earlier this year, I can't remember the exact time. It helped me get the name of the project. I knew I was done. The title of the album was just me finding myself in my faith and really understanding what my purpose in life was"
Here are five things that stood out on the first few listens of Somadina's HOTHU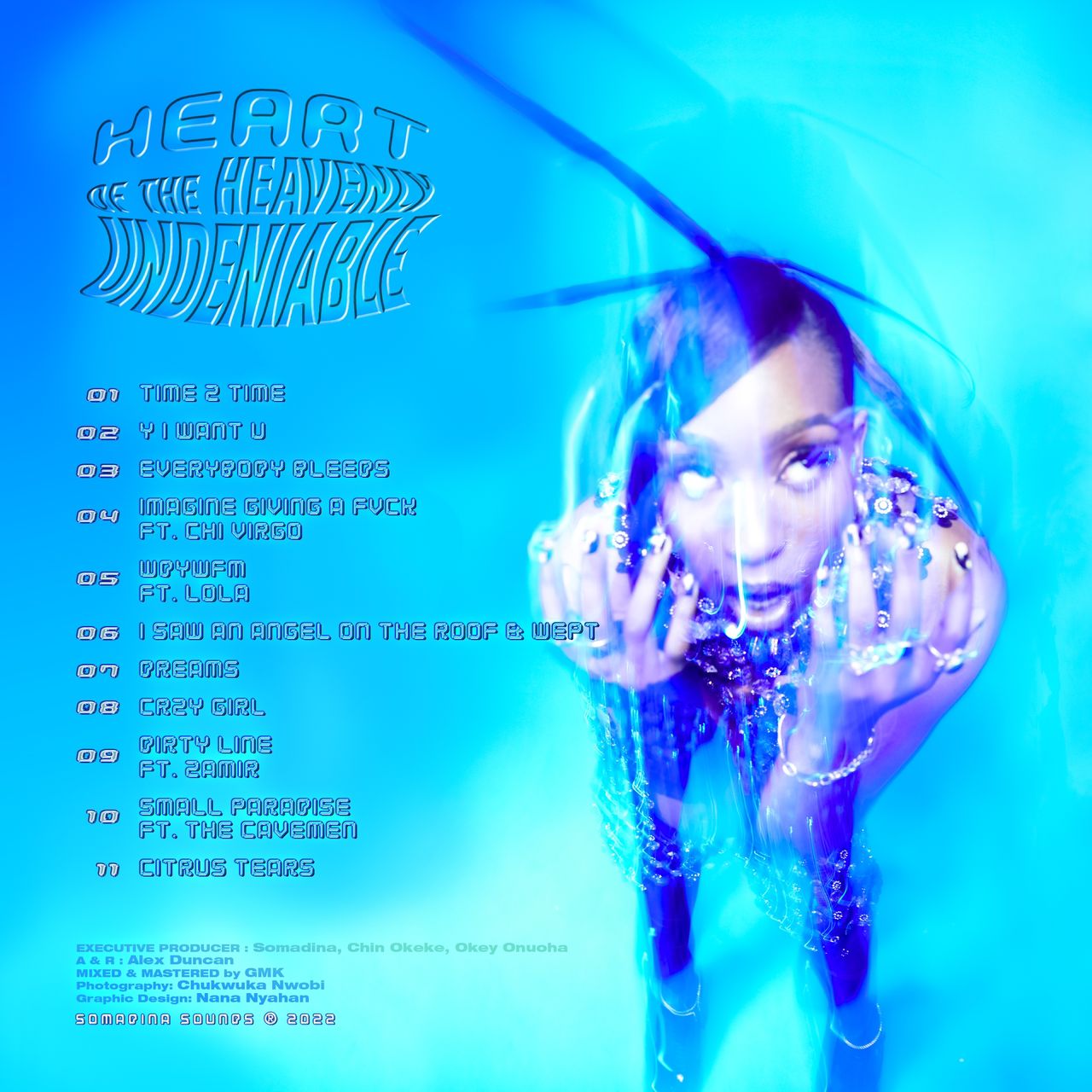 The lost act of experimentation
Living can be scary and exhausting. Especially in a world where no manuscript exists on how to be. We humans then tend to live vicariously through the eyes of others…..others who we have deemed worthy, not worthy because they are flawless beings who have lived immaculately constructed lives, far from it. The "worthy" are those who have passed through the furnace of existence without yielding or breaking, charting novel paths, traversing new frontiers, and setting standards that others wish to……no, actively seek to emulate. They make previously hidden depths attainable, seemingly unreachable heights achievable, and simply put- they reveal the 'unknown' to be 'known'. Safety is inherent in this 'known' and out of it springs- monotony, mediocrity, embellishment, and platitudes of unoriginality sacrificed at the altar of sameness all in the name of appeasing the God-called comfort.
The life of a creative is not far off from what is described above. A complex balancing act between commerciality and originality, how to sell, and what is being sold.
Formulaic routines, perfunctory harmonies, and bland lyrics all marinate in market-ready sugar pop beats. The equivalent of wearing cheap cologne on an unwashed dress, not entirely ideal but serves its purpose. Artists going above and beyond to find themselves… moving away from the prevailing, popular sound to much more unique leanings are truly a sight to behold and should be admired through and through.
'Heart of the Heavenly Undeniable' is as surreal as it is sonically shocking. A treatise to unapologetic musical exploration and a point on the board for non-conformism.
Somadina's debut project is alt energy raised to the power of 13 lady Gagas. A lightning rod for future attempts on this plane, she navigates this landscape flamboyantly while providing some really true musical highlights. Defying her name, she blazes a trail all of her own accord, where the rules of engagement are hers and we are left with no other choice but to marvel at the world she had created in her wake.
In the interview with TurnTable Charts, she revealed: "I was very hands on with this project. Everything you see, feel or hear in this project is very intentional and there's a meaning behind everything but I do work with a scope of people who helped bring the vision to life and I think everything is about understanding the vision and working towards a common goal. It is very intentional and I try my best to oversee but I trust the people I work with and I think they understand where we're trying to take the music"
The best way to create new is to understand old:
**On this EP, Somadina plays around genres a lot and attempts to bend them to her will.
In experimenting and trying to create new sounds one must respect what is so as to pave the way for what could be.
She swings wildly around early 2000's pop, rock, disco sounds and retro synths and holds all these differing elements together with her rambunctious vocals.
Weird is good, sometimes
Works like this serve as a test of the recent paradigm's fortitude. Sleeker more fancifully curated lyrics with experimental production that feels like a psychedelic trip may soon become a thriving impactful niche on this side of the Atlantic.
The song "Small Paradise" with Odunsi and The Cavemen is arguably the highlight of the album and gave a whole new meaning to the word otherworldly. Stunning in its craftsmanship and intelligent in its execution. Production yet again as throughout the album was matchless.
The album progression reads like the life of a young adolescent female in the end stages of her Goth phase suffering an identity crisis. Should she be an evil sorceress or a cat lady next? Her whole life comes full circle following a very dramatic relationship and now she wants to isolate herself from the world. Weird? Now imagine that sonically.
She revealed in her interview that the emotion she wants listeners to feel at when listening to this project is peace.
Elements create compounds……abstract melodies create magic
Melodies are the canvass upon which all great records are drawn. The unique ability to conjure up spellbinding sounds that ramify when moving ear-wards is a thing of sheer delight.
These sounds are not produced in a vacuum but are manifestations of the artiste's personality and experiences. The album is rife with examples of these.
Good music is an alchemy of sounds
 Music as different as this is a result of distinct sounds delicately matched together to bring about impeccable music. In an interview with TurnTable Charts, the artiste revealed that her faith and prayers have kept her grounded and staying true to herself when creating music.
Most experiments require some form of catalysts
Believe in the art that you may be amazed, believe in the artiste that you may be transformed.
Above all, remember the producers so that the sound may live forever.
The catalyst like real catalysts are involved in the reaction without themselves being used up.
Catalysts provide fluidity and rapidity to a reaction and these elements are all present in this album making it well rounded.
When asked about artistes that have influenced her craft, she answered: "William Onyeabor, I really like his art and I like his music a lot. He's an Afro-psychedelic artiste from the 70s but his stuff has only been recently rereleased in 2016. I think life really inspires me, and the people around me."