Last year saw the breakout of Asake, who went from being out of the Top 1000 artistes of 2021 to No. 1 Artiste of 2022 in less than twelve months. Asake also appeared on the TurnTable list of Artiste to Watch Out for in 2021 – two other 2022 breakout artistes appeared on the list (Fave and Seyi Vibez).
 A new year brings new excitement and typically ushers a new stable of young rookies looking to make their mark in a rapidly growing music industry. Introducing the 2023 Class of Artiste to Watch by TurnTable.  
Here are 14 artistes to watch out for in 2023 (based on their 2022 numbers and chart appearances).
1.     Kold AF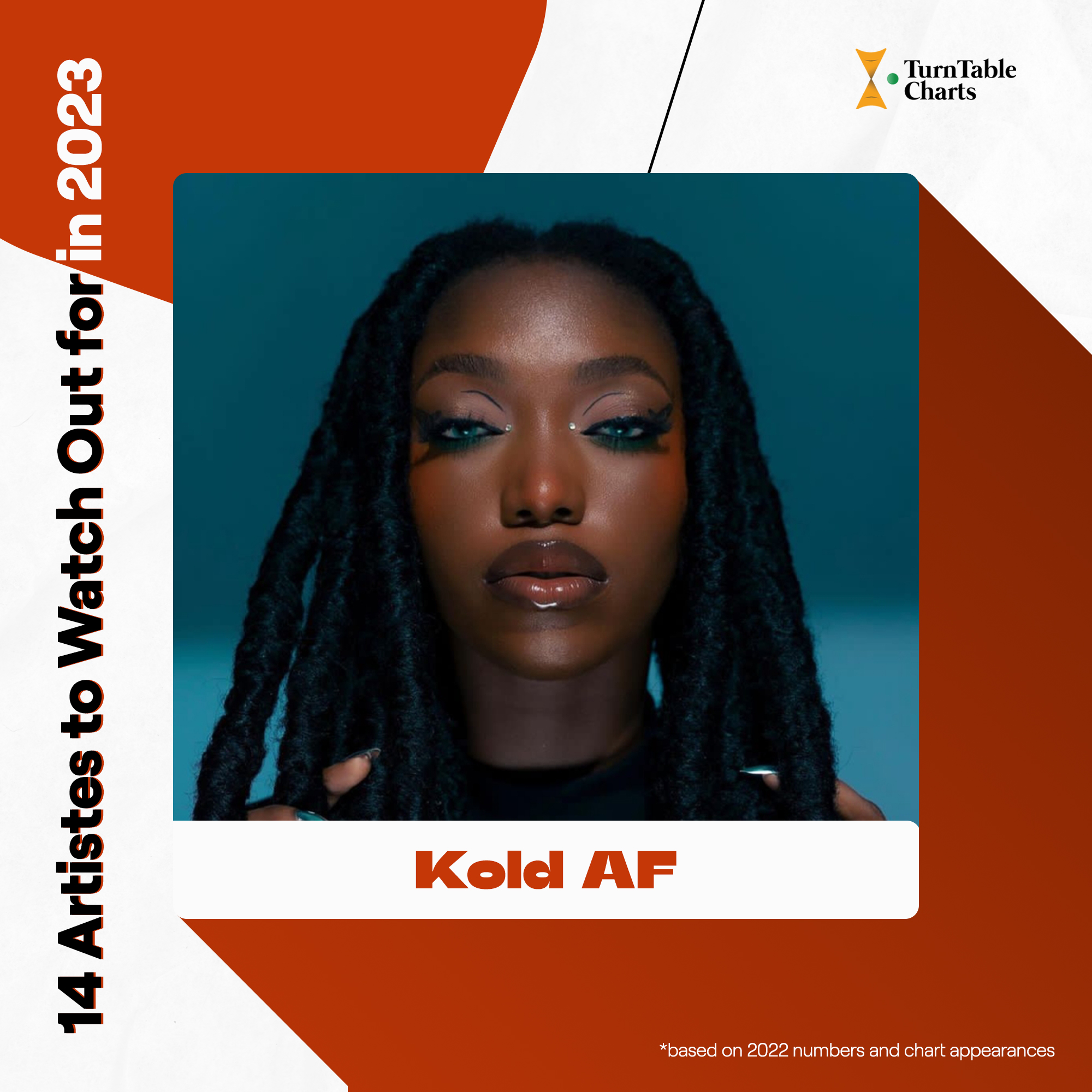 Kold AF's drop a two-pack EP with tracks "Blues" and "Wasted." While the tracks didn't hit up the biggest charts in Nigeria (like a number of artistes on this list), it did enough to grab the attention of listeners who will be eagerly waiting for what Kold has for us in this New Year.
2.     Princess Wonda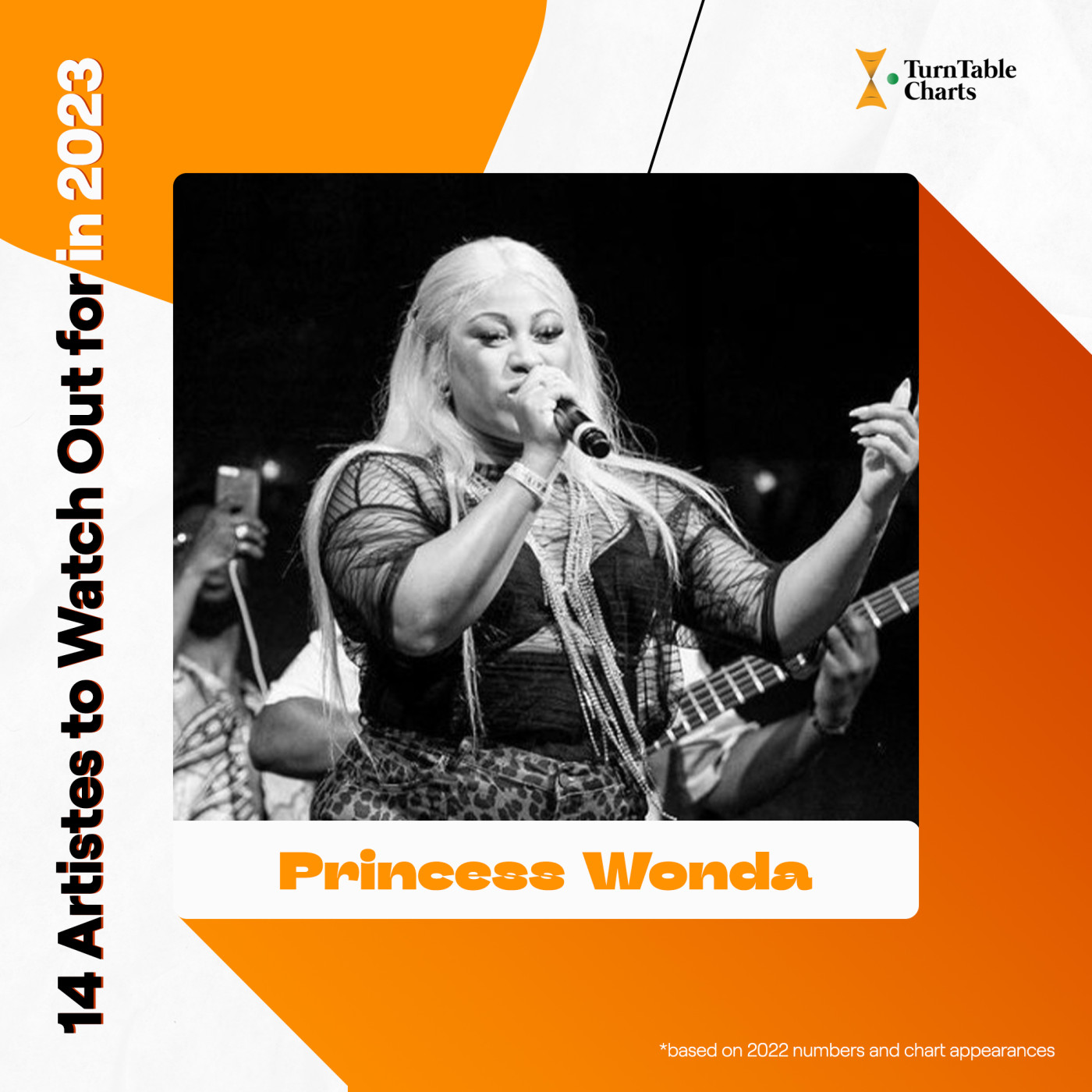 Princess Wonda dropped only one single in 2022 – "Lala Le" featuring MYSTR D. However, her talents were more than enough to see and performance at the Afro Summer Jam Festival in Zurich, Switzerland won't be the last time we will be seeing the fusion artiste on the big stages.
3.     Libianca
One of the few artistes on this list to have an entry on the Official Nigeria Top 100. While many in music (including the TurnTable team) went on break during the holiday period, Libianca and her team set out to put in the work and now they are reaping the rewards. "People" moved to No. 68 on this week's Official Nigeria Top 100 and debuted at No. 92 on the UK Official Top 100 – a remarkable feat that proves that the West African artiste is finding love at home and abroad.
4.     Shine TTW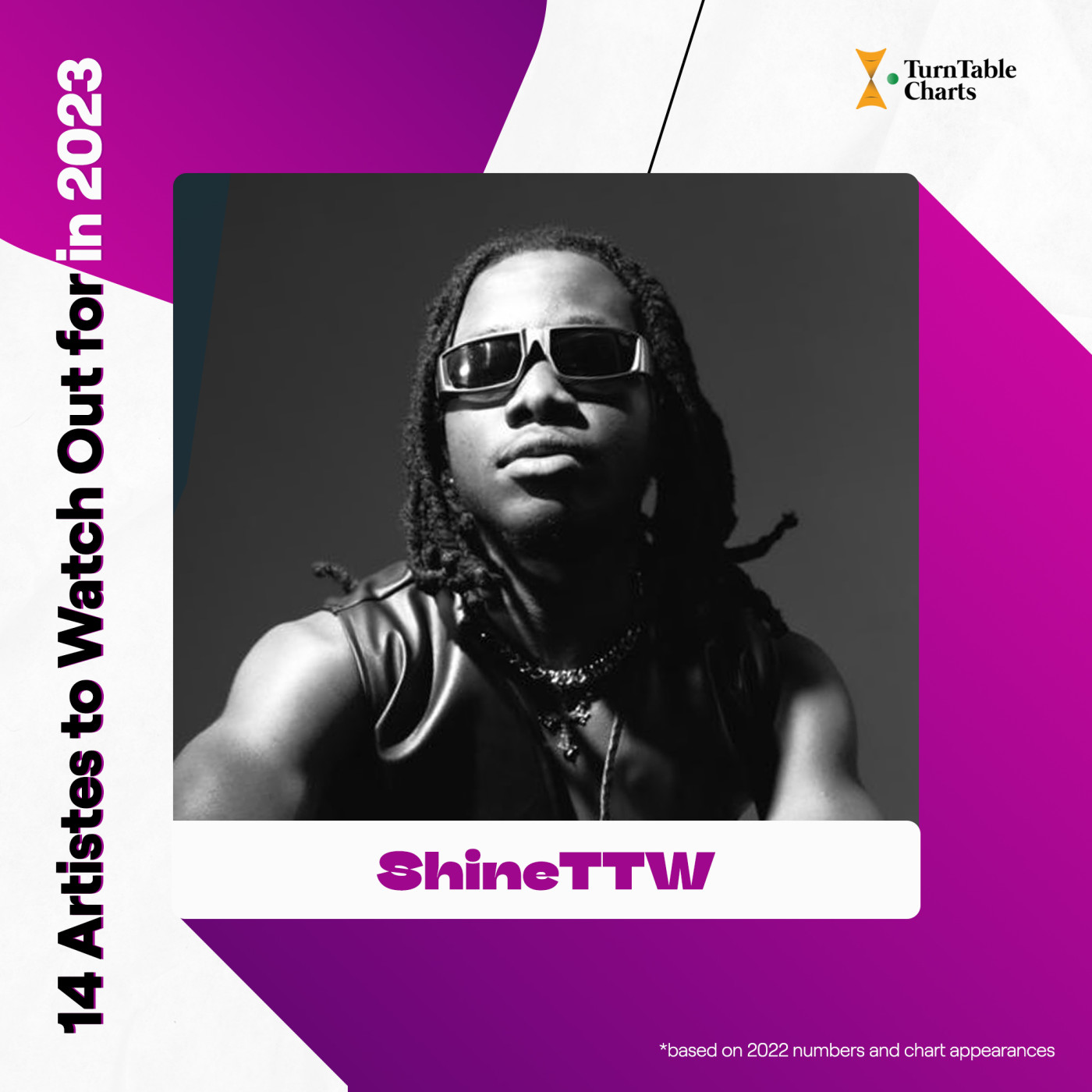 ShineTTW announced his entry with the release of two singles "No Religion" and "Designer" – and its stark difference from mainstream music has made the artiste one of the most exciting rookies in the game.
5.     Qing Madi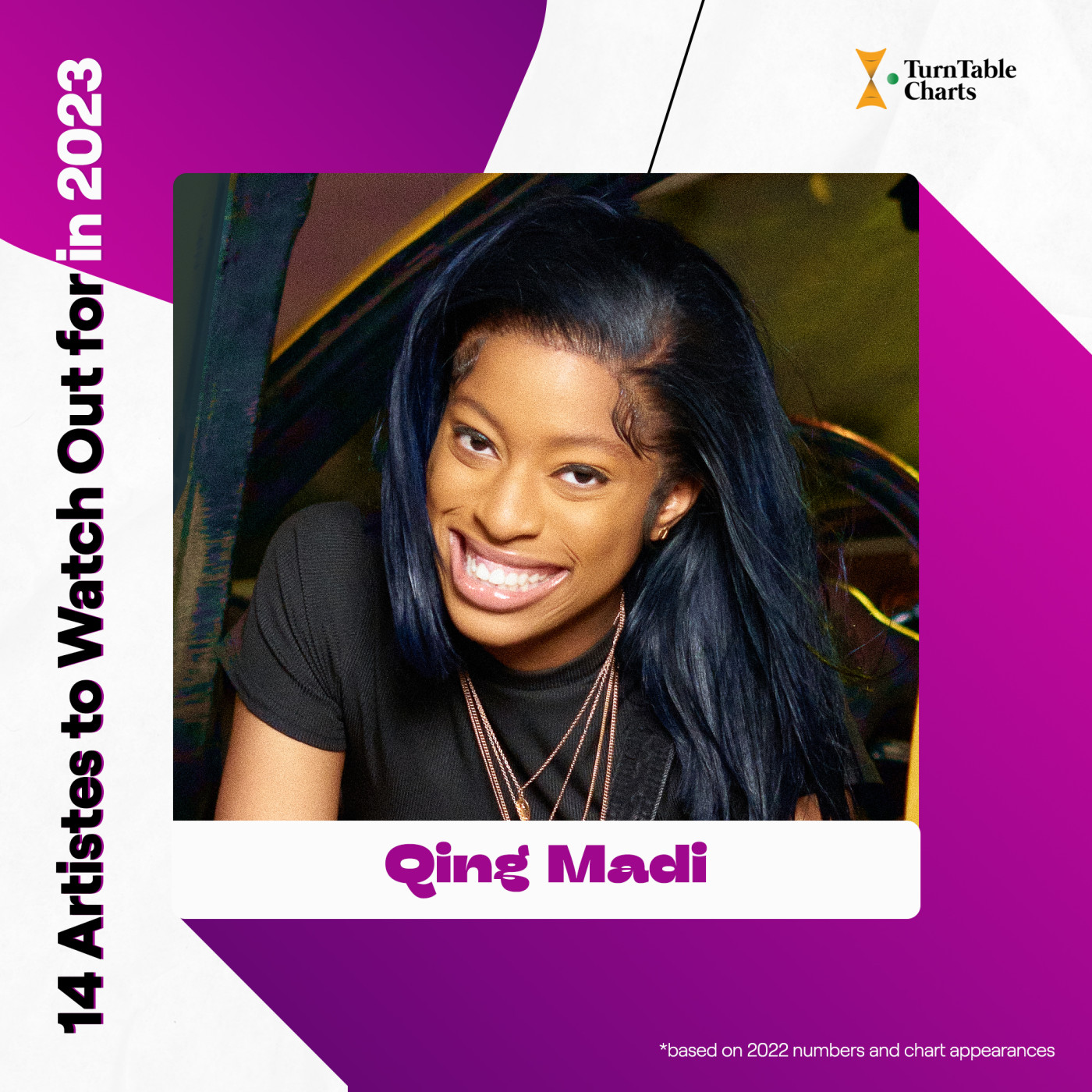 Qing Madi is another artiste that found love with her first release. Her debut single "See Finish" became a constant feature on daily and weekly charts of numerous streaming platforms in Nigeria.  "See Finish" peaked at No. 5 on the Bubbling Under Top 100 chart in 2022. Judging by her talent and vocal range, the success of 2022 is just a snapshot of what is to come in 2023 and many years to come.
6.     Fred Marley
Fred Marley was busy in the last quarter of 2022; he released a collaborative EP titled MOONWALKERS and another single on December 23 titled "Everytin." It is on the latter that the artiste displayed that he is on artiste to watch out for in 2023.   
7.     TaR1Q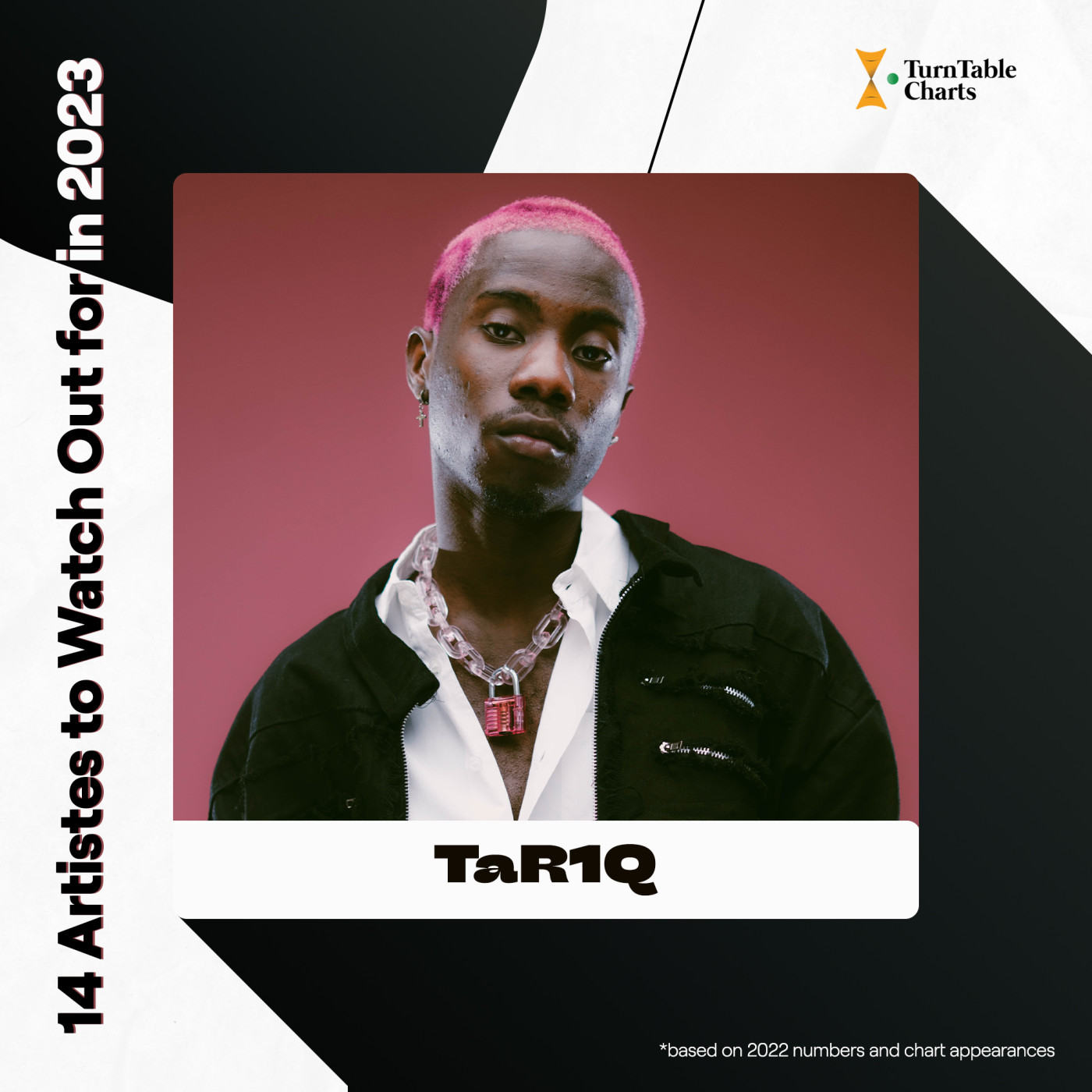 TaR1Q introduced us to his world with SON OF THE MOON, a 5-track EP that displayed the artiste's amazing songwriting and special ability to convey a wide range of emotions.  
8.     Soundz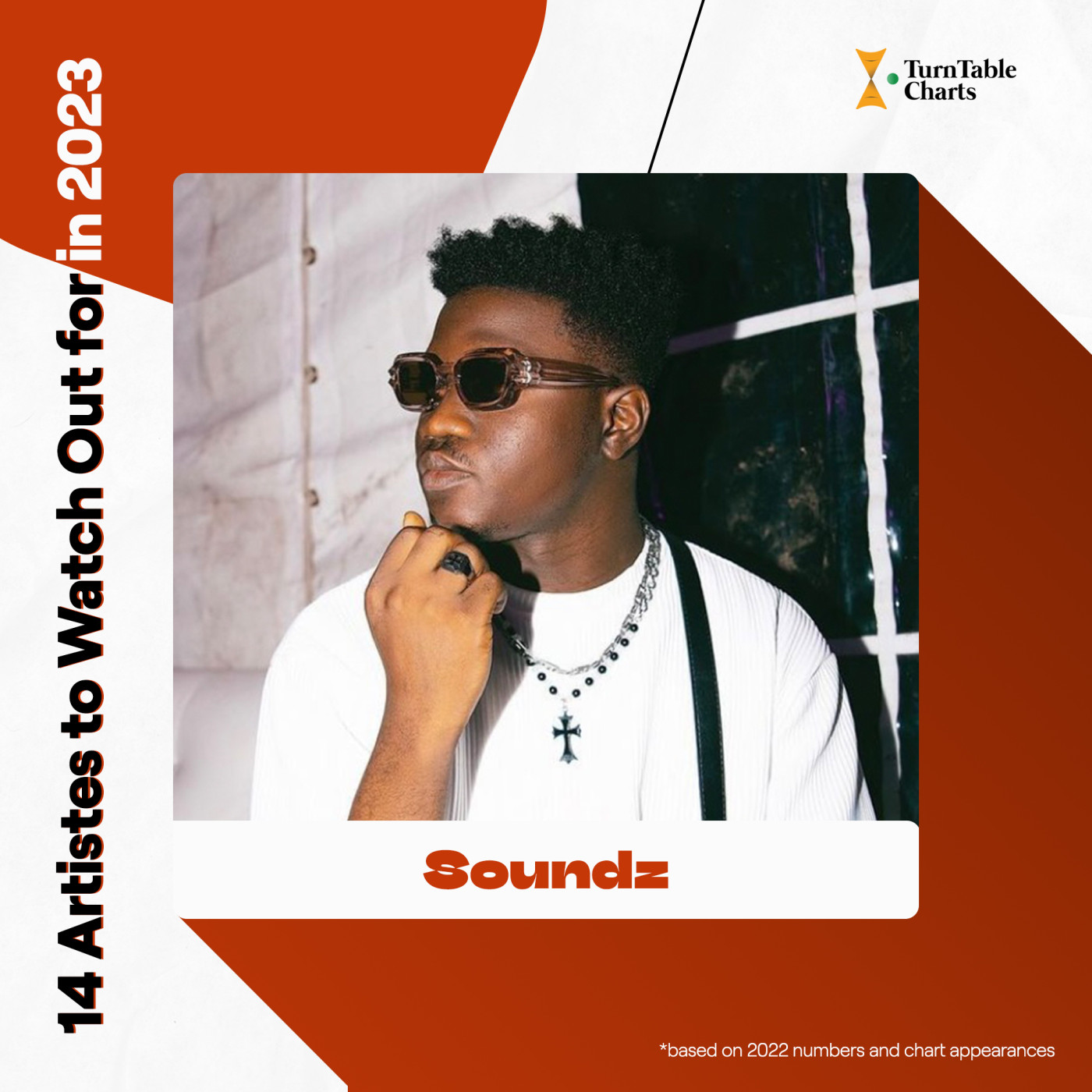 In 2022, Soundz dropped 'In The Rough – EP' which peaked at No. 36 on the weekly Official Top 50 Albums chart in Nigeria. Additionally, it spurned the sleeper hit "Attention," which has peaked at No. 4 on the Top Afro-R&B genre chart in Nigeria.   
9.     T Dollar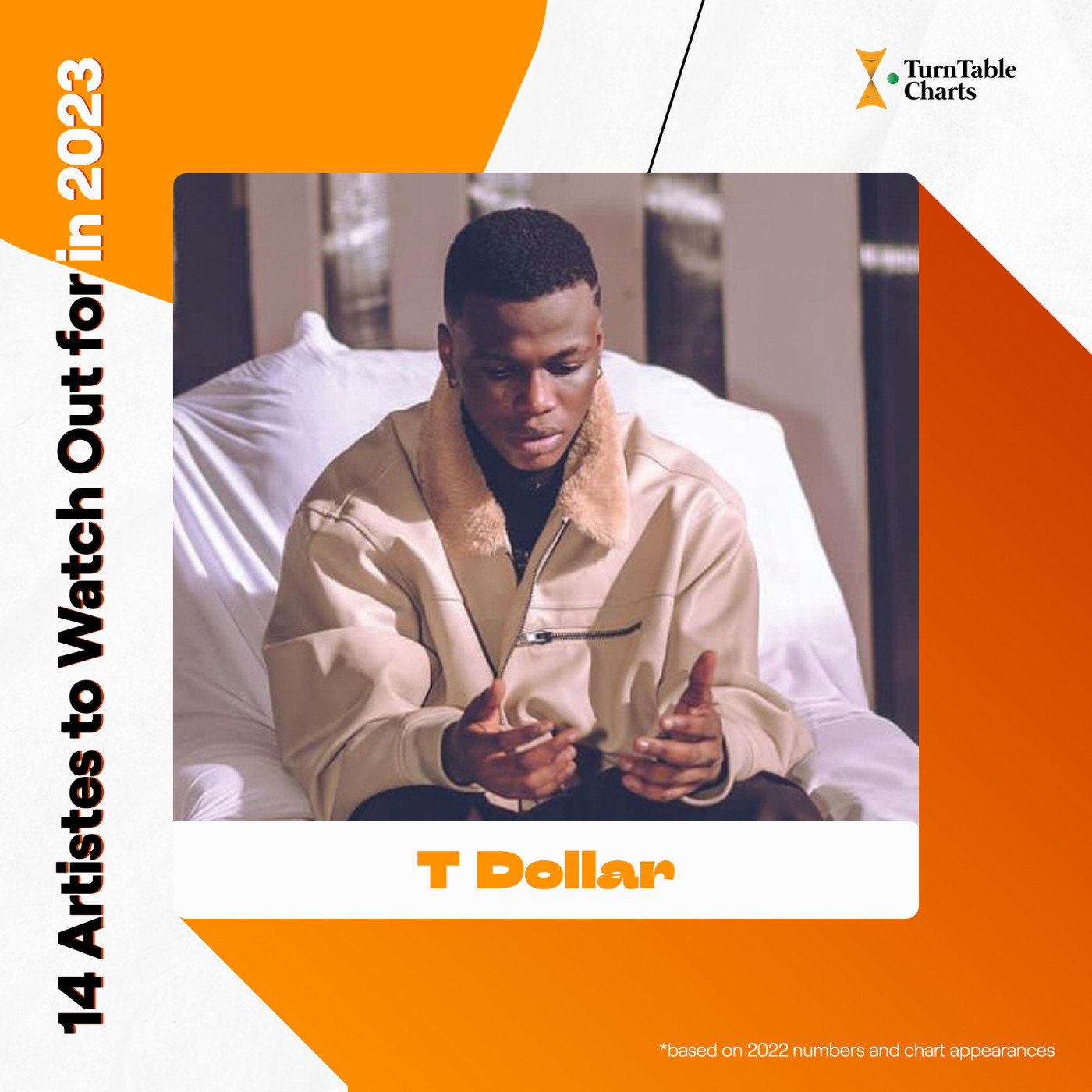 T Dollar is the only artiste on this list who has charted on the official singles chart, official albums chart and official artiste chart in Nigeria. His 2022 release, "Rise" became an instant hit and it became a mainstay on the singles chart. Additionally, his 'Rise – EP' continues to appear on the Top 50 Albums Chart.  
10. Major AJ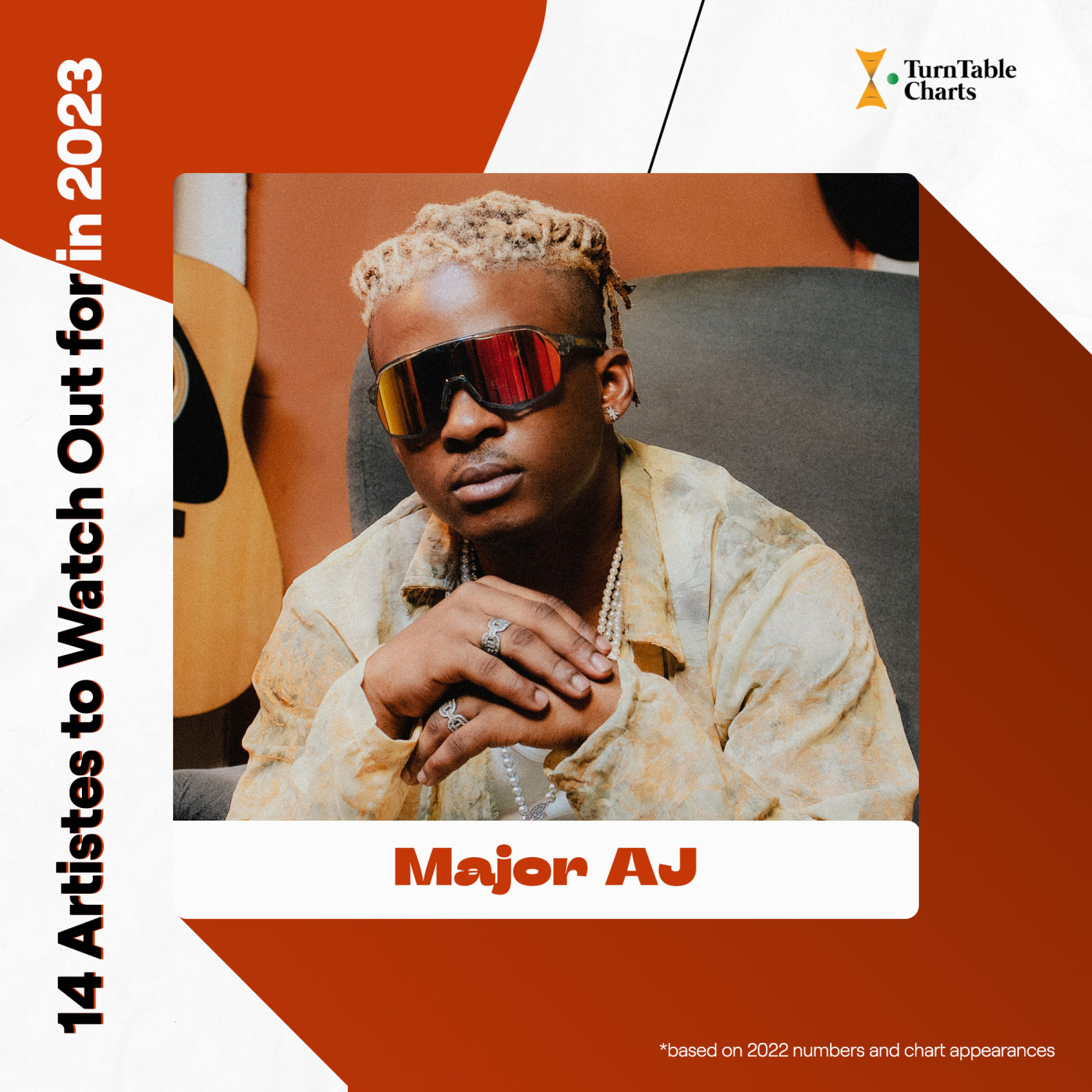 It only took 5 songs for the world to know Major AJ is the real deal with his 2022 EP, Retroverse. "Taboo," the lead single on the project has garnered over 150,000 streams on Spotify as well decent amount of airplay.   
11. Naya Akanji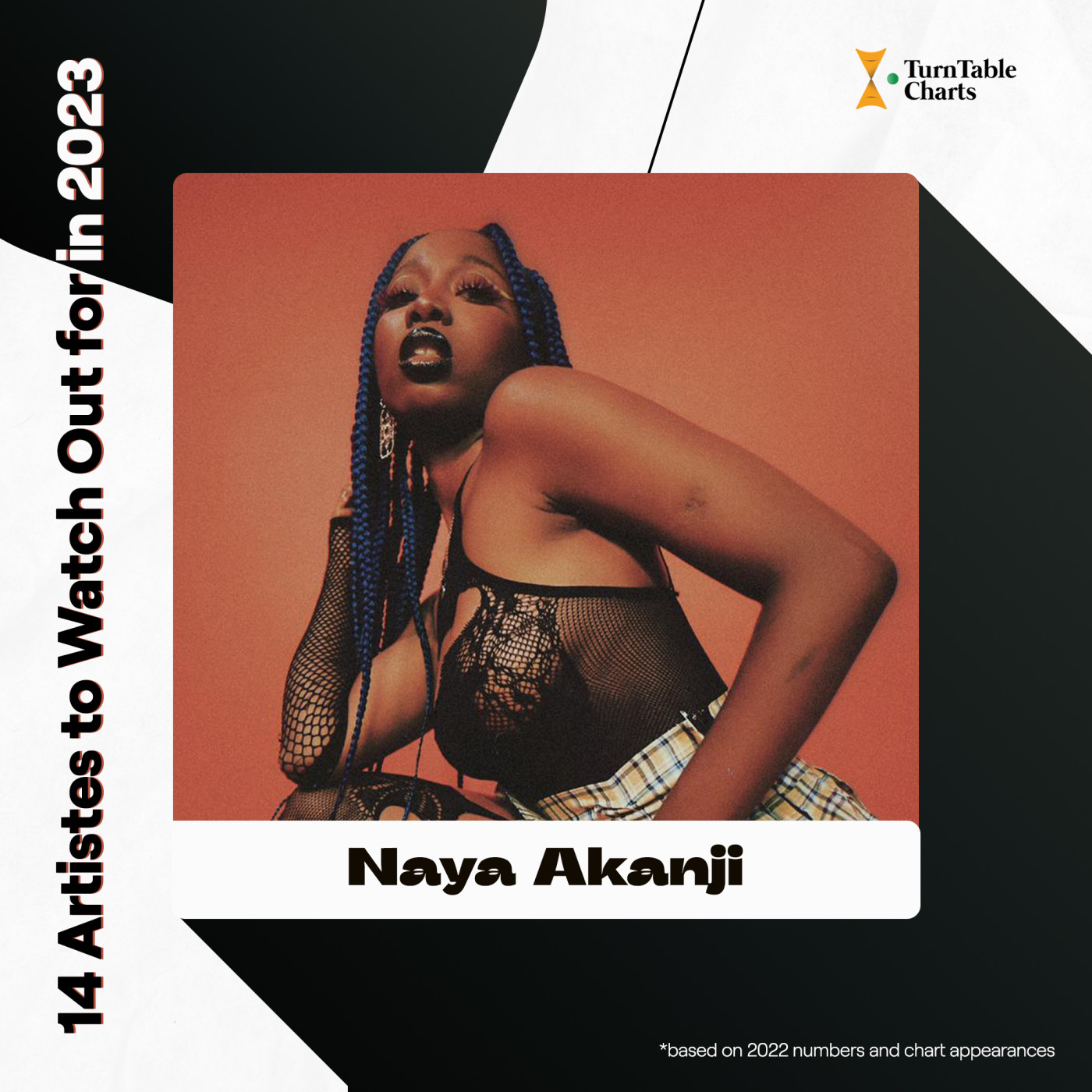 Naya Akanji's 2022 release "temp peopl3" was written and produced by the artiste. She also released "Closer" in May, a career-defining moment that saw her record premiere on BBC Leicester.   
12. Boi Chase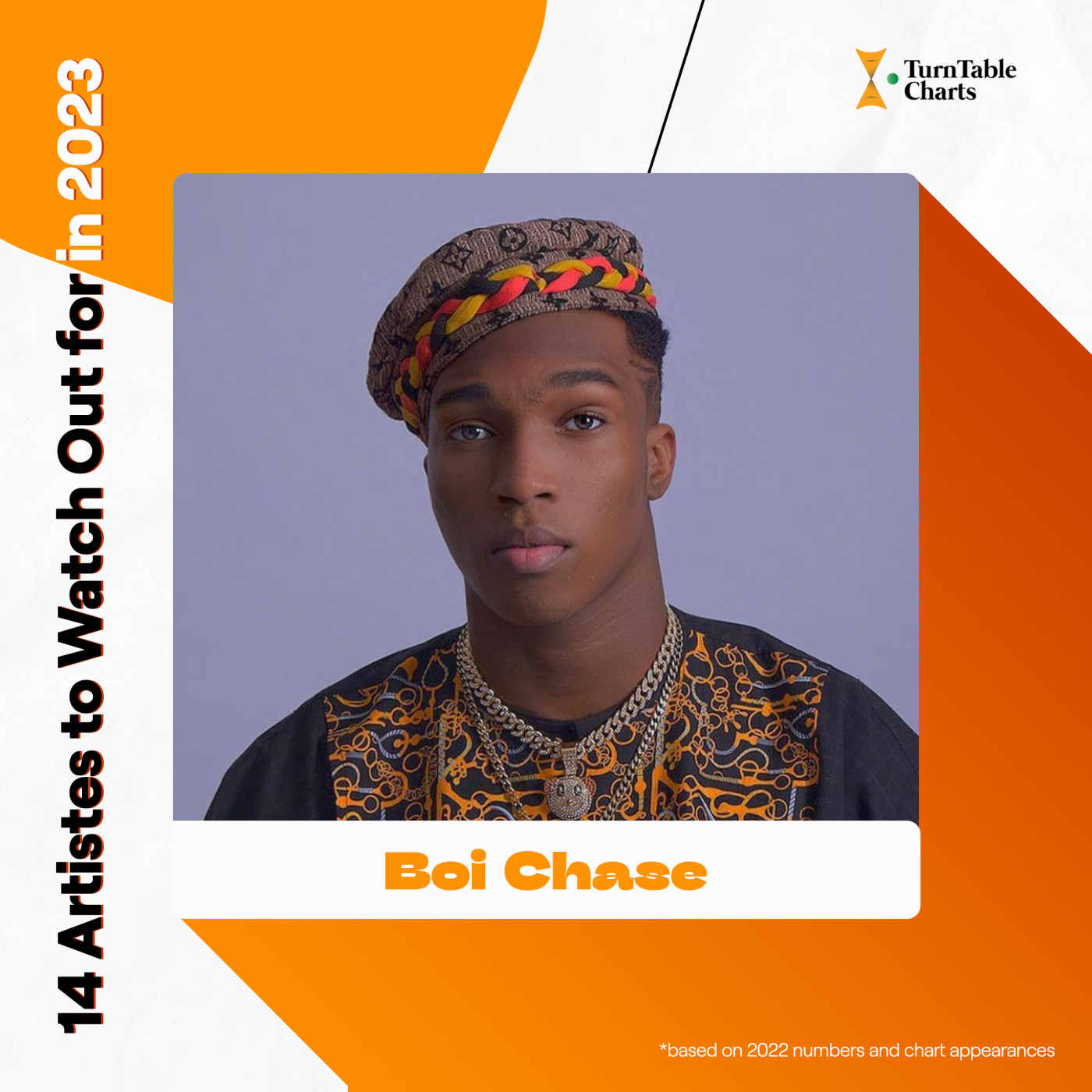 Boi Chase story in 2022 went from dropping IG covers to charting in Nigeria with refix of popular singles – one of which caught the attention none other than Davido. He capped of the year with "Money" featuring Berri-Tiga, proving that he could equally make sonically pleasing original music.   
13. PDSTRN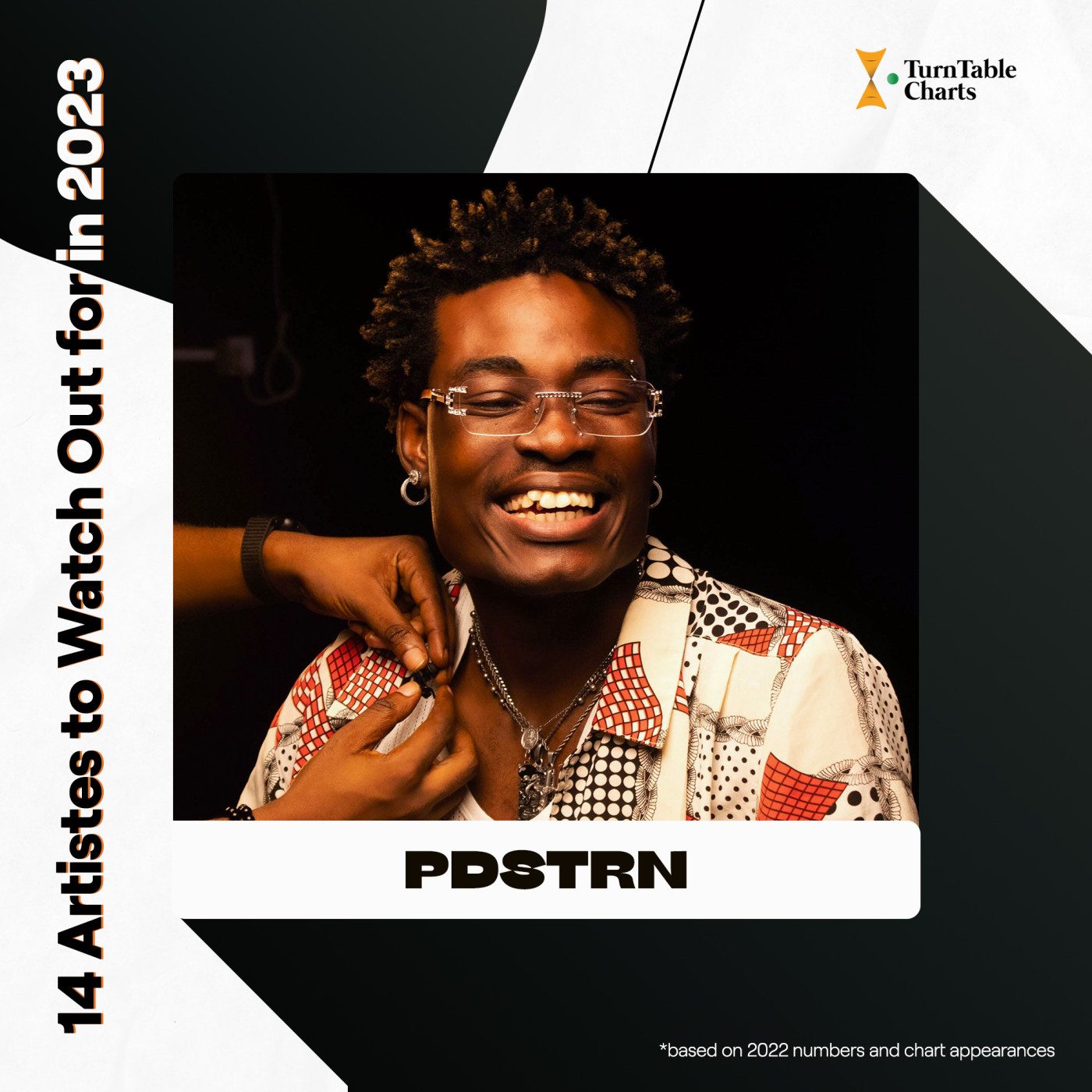 Winner of the Hennessey Artistry Class VIII, PDSTRN's unique coarse baritone voice and singing style means that there is an amazing future ahead of him. Fittingly, his 2022 body of work is titled The Prologue.    
14. Shoday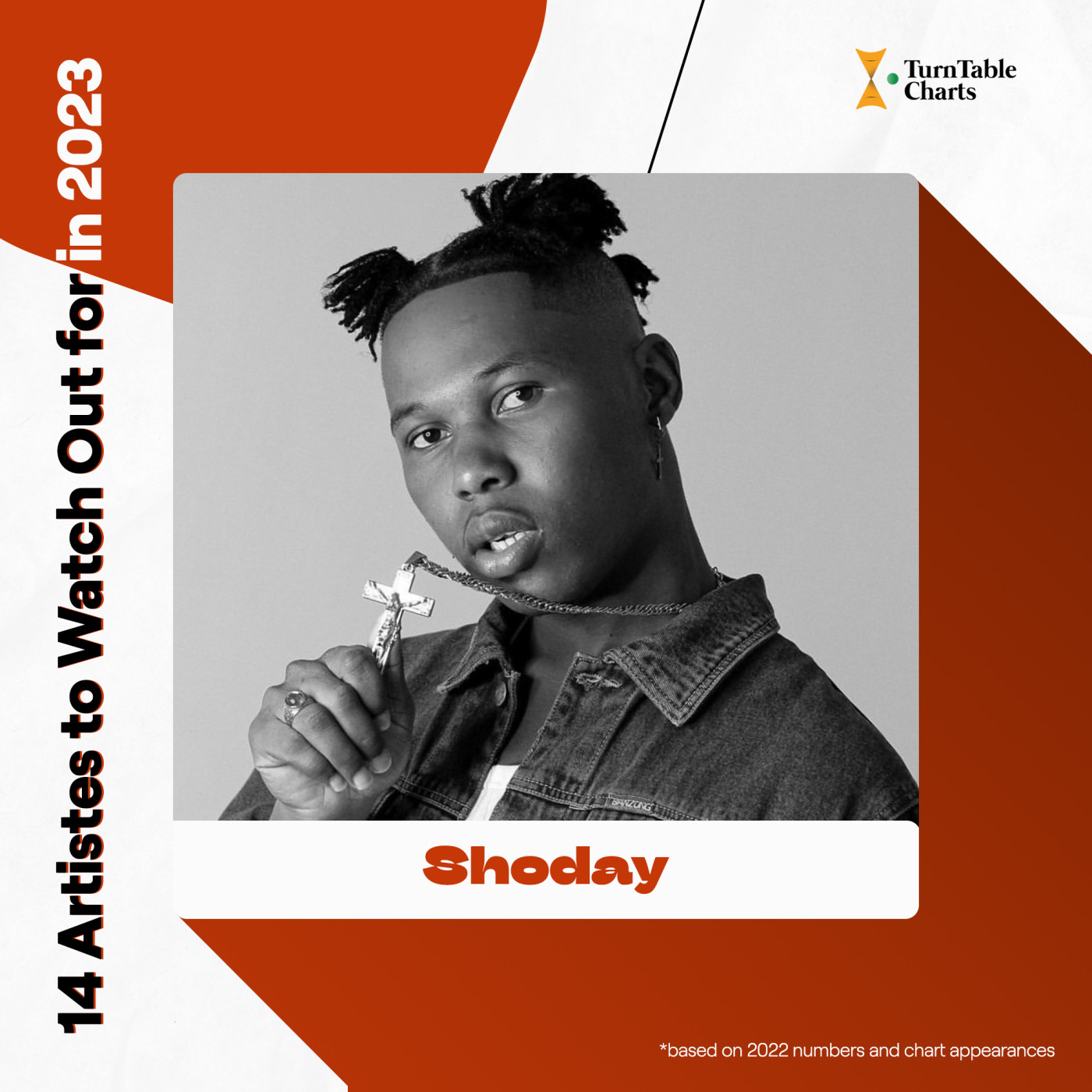 Shoday is one of the few artistes on the list with an entry on the Official Nigeria Top 100. In fact, the rookie artiste had a rare top 40 hit in Nigeria with "Caution." One thing is sure – this won't be the last we hear of this exciting act on the charts.