As part of the International Women's History Month, TurnTable will be making a series of spotlight features on some of the women who have been contributing to the growth of Afrobeats both home & abroad.
AB Dollars is an Afrobeats DJ and music executive who has worked with artistes such as Rema, Reekado Banks & Tems; for AB, she has had a front seat to the rise of Afrobeats especially in the UK scene and in this spotlight feature, she talks about becoming a Dj, Afrobeats in the UK before its popularity, Dj refixes and how they are shaping DSPs and more.
TTC: Can you tell us about yourself, your entry into music and how you became a DJ? 
AB$: My name is AB Dollars. I was born and raised in London. I am a London-based DJ who only does Afrobeats, which is very rare here; almost all the DJs are multi-genre, but I think from the very beginning I've been passionate about Afrobeats, and I think it's the most exciting genre for probably the last 10 years. I started working in music in 2016, which feels like ages ago, as a consultant. I was consulting for Island Records, and then I went to EMI. When I wasn't working directly on music projects or music artists, I was always doing something related to that, whether it was pop-up shows for artists, working on their tours, merch, or all the other drama.
TTC: What would you say is responsible for your love for music and your decision to become a DJ?
AB: I think music is one of those things that continues to fascinate me, even though I started working in music as a consultant and I wasn't always a DJ. When I'd go into studio sessions with artists, the energy in the room is always mad. I think it's a spiritual language so I've always been like, "How can I contribute to the experience?" I'm sure you've been to parties, the whole place is electric; the DJ is usually the one creating that energy. During my time in music, I've seen all of the work that goes into being an artist, and a lot of the different elements of music have their own challenges. I felt like being a DJ was the most natural one for me; I felt like I could just do it, so I taught myself how to DJ. When I was younger, I went to parties, and I always used to see men DJing; I never saw girls. I kind of thought it wasn't possible, and I always stood by the DJ booth just to see what they were doing. Even though I've been DJing for 4 years now, there's still so much that excites me, and that's something that is very important for me; I love being excited.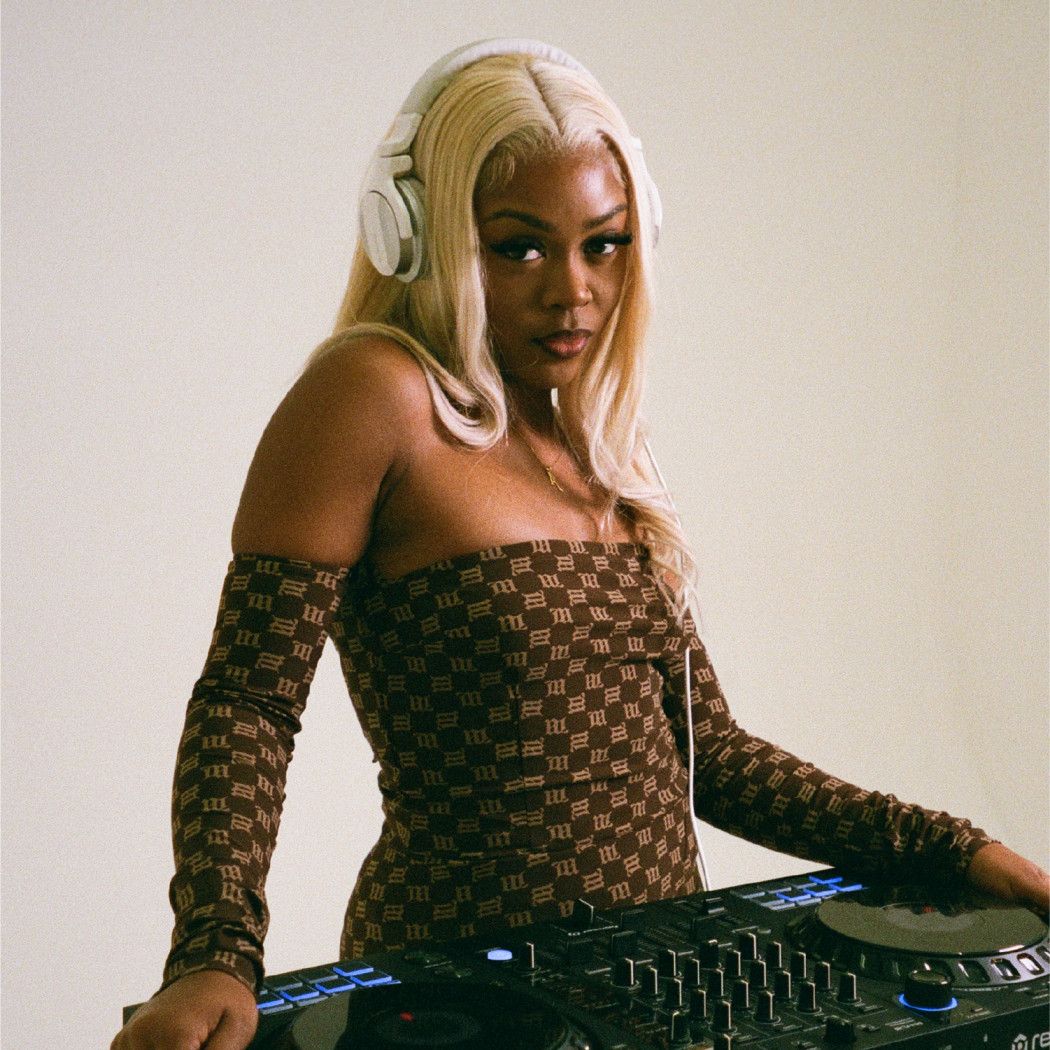 TTC: Who are some of the Afrobeats artistes you've Dj'ed for? 
AB$: Yes, I DJ'ed for Rema for one of his London dates in November. I've also DJed for Reekado Banks and Tems afterparty in collaboration with The Face Magazine too.
TTC: There are lots of complaints from people who have been in the UK for decades; they tend to say, "Afrobeats wasn't so glamorous like this; people weren't always bold to say they were Afrobeats artists." But today, seeing a situation where you're able to open for sold-out shows by an Afrobeat artist, how does that make you feel? Can you describe that feeling?
AB: Living in the UK is complicated if you are someone who moved to the UK in the 1970s, 80s, 90s, or 2010. Every generation has a different energy. I definitely agree that Afrobeats only became something glamorous and exciting in the last few years and growing up, maybe up until I was 10 years old, being Nigerian or African wasn't cool; which is one of the main reasons why I'm so excited about Afrobeats and why I love pushing it because I believe that the right representation, seeing cool young Africans speak their language and being proud of who they are, even in the music is important and empowering. 
People used to think that Africa or Nigeria were just huts; they didn't think there were CDs and music; the perception of the country was really backwards and I think with the music and culture today, there's definitely been a shift in the perception of Afrobeats, and it's also helped build the profile of Africa, Nigerians, and any kind of black people around the world. They look at Rema and Wizkid and say, "Oh yeah, that looks like me; I could do that." It's definitely something that is very inspiring.
TTC: My next question would be about how Tiktok has been able to launch different hits, whether by bringing old songs back or making songs by emerging artists overnight successes. We're seeing this type of phenomenon become so popular; do you think it's fair that DJs who are responsible for these kinds of mixes should be compensated for their part in making the songs bigger?
AB$: I definitely don't think DJs get enough credit for the roles they play in music in general, aside from TikTok. I don't think enough artists prioritise sending their music to DJs before it's released; they don't think about which DJs they'll choose for a show as much as I think they should. I think DJs should be compensated for making songs bigger, but it's complicated because DJs are not producers, and producers are not DJs.It's on the DJs sometimes to educate themselves: "If I make this remix, how can I reach out to the right people to get the credit?" It's complicated, but I definitely think the DJs should be compensated one way or another.
TTC: Are you able to talk about the other side of the question as part of a label?
AB$: If we're going to be honest, there's so much work that goes into creating a song: writing the lyrics, coming up with the melody, the beat, the mixing, and the mastering. I don't think people realise how much work goes into making a song, so let's say I'm the label and I put $5K into making the song, and the DJ plays the song and speeds it up. Yes, the DJ has contributed to making the song pop on social platforms, but ultimately, all the initial legwork cost a lot of money, and without that initial legwork, the DJ wouldn't have been able to do what they did. In some ways, some DJs are getting compensated, but if they wanted to be compensated a lot more, they needed to go through the right channels.
TTC: Last year, Billboard published an article regarding DJ mixtapes and how they are becoming more popular within Africa itself and in African music. Do you think this is something that should be available on more streaming platforms aside from Apple Music?
AB$: I really appreciate Apple Music for supporting DJs with their new music platform because a lot of DJs don't get compensated for the role that they play. On Soundcloud, for example, you don't get paid; you have 100,000 people listening to your mix, and you don't get paid a dime.
I think making it easier for DJs to do what DJs do would be great; paying them is amazing, and I think that's what should be focused on wherever possible.
TTC: What are some of your next plans or projects—maybe an artist collaboration, events, or shows?
AB$: I launched my new radio residency earlier this month, so every first Tuesday of the month at 12noon I'm on RINSE FM. I'm really excited to platform and celebrate new artists and great music. 
I'm definitely planning to tour; I want to go across the world and basically build as much as I can. I've done a lot of my own events and parties across the UK, but I definitely want to take that global, to a lot of places that are interested in Afrobeats but don't have the culture, know-how, or connections on the ground. 
In terms of other projects, I'm definitely working on one that I'm not sure how long it'll be. And I definitely want to build my events into a bigger festival, and I think there's an opportunity because the demand is there—Wizkid selling out Madison Square Garden, Burna Boy selling out the O2, everybody doing big things. It's exciting to see loads of talent, but the infrastructure is not necessarily there to keep supporting talents, and that's something that I want to help with.